How would you feel, if I give you a hammer and ask you to keep on hitting something until I say so? You may ask, "Are you nuts?!" But wait! Let's talk about nuts.
Having crossed one-eighth of uni-life, the brown tags were exuberant about the first week of their new sem. Road had derailed for batch-mates and everyone are now into their career paths. New things like department, clubs, senior interaction twinkled in their eyes.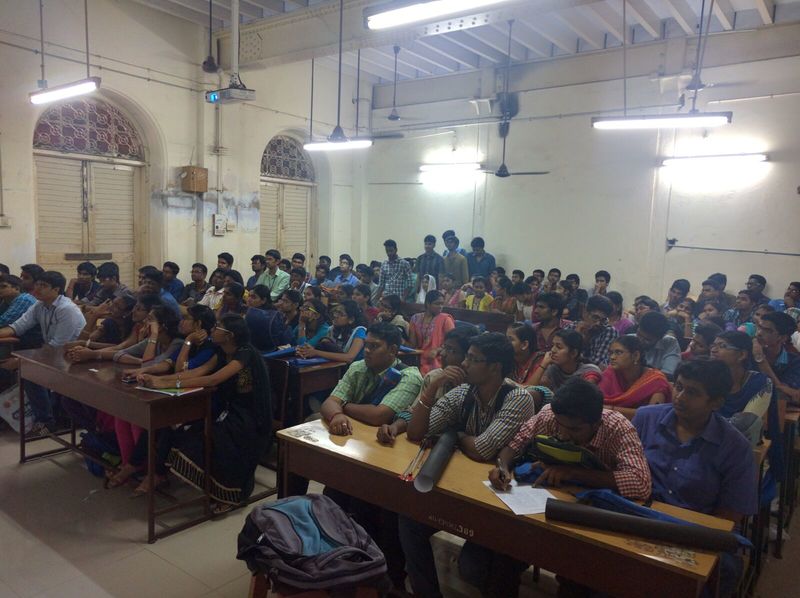 On a typical Thursday evening (21/01/16), they had to break their routine of canteen, coffee, chit-chats, ground, groundnut and idleness to attend the first meet of Robotics Club. The irony was, robotics is all about building machines which could simplify boring routine tasks.
Feet marched towards the filled classroom, a few standing. A senior, on the stage, started conversing. A presentation was on the background. Lots of sighs in the room. A day full of lectures and another repeat? But the talk was a surprise package.
Nearly an hour passed without monotony, chewing the achievements of the seniors, workshops, frequency of the gatherings. Fingers on jaws, many acted out the gesture *Robotics?! Never have I seen it look so promising*.
When the narrator requested at the end of his introductory class that everyone form four-member teams, the commotion began, "Hey macha, join my team da!"
I walked away, smiling at the enthusiasm in the room and wishing the Robotics Club of CEG all the success this semester as well!