The spirit of debating is to talk about issues that need to be discussed; to question the status quo and bring an array of viewpoints to the table. Parliamentary Debates, being one of the most popular forms of debate, seek to offer out-of-the-box takes on current matters of interest. With this in mind, the second annual AUPD was inaugurated on the evening of 20th March, to provide college students an opportunity to flex their debating muscles, and espouse the essence of competitive debating.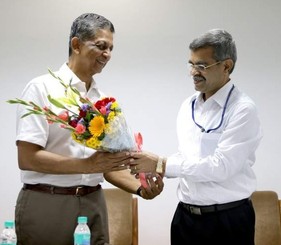 The inaugural function for AUPD 2.0, held in the Colin McKenzie Hall, was attended by the Chief Guest, the distinguished Dr S Narayan, who served as an Economic Advisor to the former Prime Minister of India, Atal Bihari Vajpayee, and the Non-Executive Independent Director of several corporations. Also in attendance were the Dean of CEG, Dr. P.Narayanasamy, the HOD of the English department, Dr.K.Elango, and Staff Advisor, Dr Veena Selvam. The dignitaries spoke on the AUPD with enthusiasm, commending the efforts of the Literary Clun in organizing the event, and wished them great success. The attending dignitaries were felicitated by Justina Matthew, the President of the Literary Club, and Srivatsan Jayashankar, the Director of the Literary Club.
The inauguration was followed by an interactive workshop on the workings of a Parliamentary Debate by members of the Literary Club, attended by the participants of the AUPD. The organizers clarified questions raised by the participants, and built enthusiasm for the upcoming competition.
The evening was an invigorating start to the AUPD weekend, which promises to bring exciting debates to the sharp minds participating in the competition, culminating in a glorious finish for the winners of this grand event.