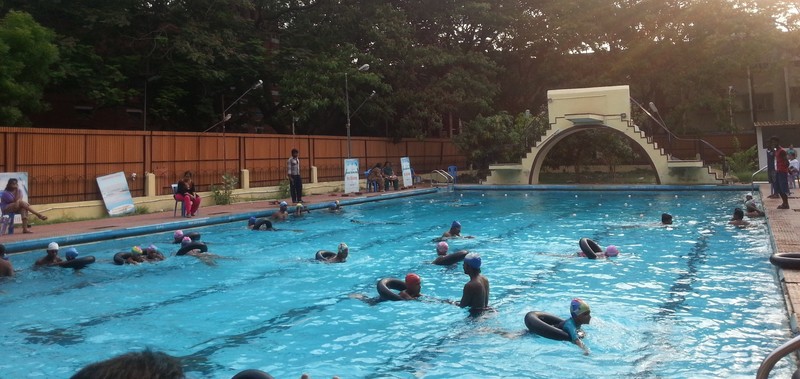 Location: Opposite Manufacturing department
Timings: 6am to 8am
9am to 10am (Ladies Only)
4pm to 6pm (Tuesday Holiday)
Anna University is known for its huge campus and the facilities it provides. The swimming pool, located between the Red Building and the SNH block, is yet another perk for the students. The pool was declared open by Dr. E. Balagurusamy, the then Vice Chancellor of Anna University In the presence of Thiru. P. W. C. Davidar, Member secretary of SDAT (Sports Development Authority of Tamil Nadu) on May 4, 2005.
The 25m pool is open all days, even during holidays. It is closed only on Tuesdays for maintenance purposes. There are 4 trainers and life guards on duty. The pool is well maintained, with strict rules being enforced. For instance, a swimmer is not allowed into the pool unless he or she is wearing a cap. Caps, goggles and swimming costumes are available for sale at the reception desk. The changing rooms are spacious and well built, as well.
AU students and staff are charged a very minimal 50rs per dip and 400rs per month. The cost varies for the AU alumni, though. A 15 day training program to help master the four strokes costs 1000rs, and can be attended any time during the year. Quarterly, half yearly and annual memberships are also available.
When asked about the student turn out, Mr. Murugesh, a trainer, said that the students were not utilizing the resources available. "There isn't a swimming pool anywhere around here, that charges so less. The students are gifted to have this wonderful opportunity", he said. Apart from hosting competitions, the swimming pool is a favourite for students during the NSO camps.
Summer is when one longs to stay inside the water. Little Sai Meera is no exception. "We were a little hesitant to let Meera join the classes at first, but once we saw how much she was enjoying, we paid the annual fee. With such good trainers, I think it was inevitable. She can come in and take a dip any day she wants to. Moreover, it feels lovely being inside the AU campus. We have a lot of memory attached to this place", said Mrs. Chandra, the 5-year-old's great grandmother. The parents of young kids seemed very happy about the pool and the training.
Next time you find yourself free, be sure to take a dip in the pool. It won't fail to enthral you!
The author is a bubbly, cheerful, typical Chennai girl who one day dreams to visit all the places in the world.