"Education is not preparation for life, Education is life itself!"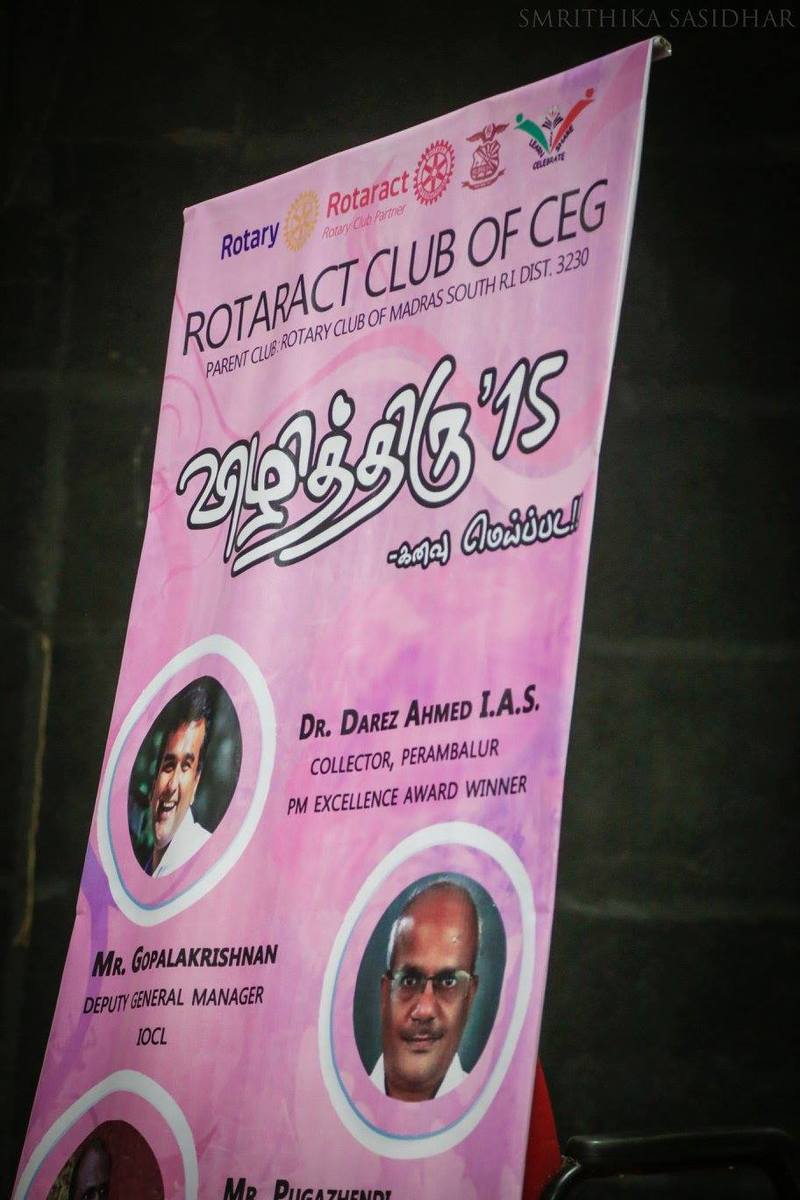 Standing by the quote, Rotaract Club of CEG (RCEG) successfully conducted its 13th edition of Vizhithiru, a career guidance and educational motivational program for school students of Grade 11 from in and around Chennai. Around 300 students attended the program on 06.10.2015 which started at 9.30 am. The inauguration was graced by the District Rotaract Chairman Rtn. S. M. Balaji, beloved Dean of CEG Dr. Narayanasamy, Staff advisor of RCEG Dr. Karthikeyan and Rotarians from the parent club of RCEG, Rotary club of Madras South.
Every year, RCEG has invited notable speakers to train and motivate the students with their flamboyant speeches. Following the tradition, this year, the first among the speakers who addressed the audience was Mr. Darez Ahmed, District Collector of Perambalur, a very energetic and down-to-earth personality. He had taken eight students who hail from economically poor background under his care who have now achieved great heights in life. He emphasized on the point that the medium of studying or the management authority of the schools, whether government or private has nothing to do with one's career.
Next, the students were given a presentation by Mr. Shyam Anandaram, an alumnus of CEG and the Co-founder of the former Frilp Company. He inspired the audience with his casual yet crispy speech which concluded the morning session. Post-lunch, some events like quiz, JAM, poetry, drawing, essay writing were conducted.
Later, the next session began with Mr. Pugazhendi, Founder of Bodhi Garden School. His speech was focused mainly on Teachers, who sacrifice themselves for the betterment of students' lives which got him a standing ovation from the students themselves.
The last speech for the event, was given by Mr. Gopala Krishnan, Deputy General Manager, Indian Oil Corporation Limited. He trained the students with a presentation about the way of living life which the students enjoyed listening to. RCEG provided the students with a kit containing a magazine prepared by Green Rotaractors, a pen, a notepad and a file wishing them a bright future. The winners of various events were given prizes and all the Chief Guests were felicitated with a memento. The programme closed curtains at 4.30 pm. The students and the teachers gave their feedback thanking RCEG for arranging the useful program, which the government school students felt to be a very rare opportunity. RCEG did not fail to excite everyone with their very own unique and professional way of conducting events. The upcoming brand events of RCEG are Conclave and Sangarsh.