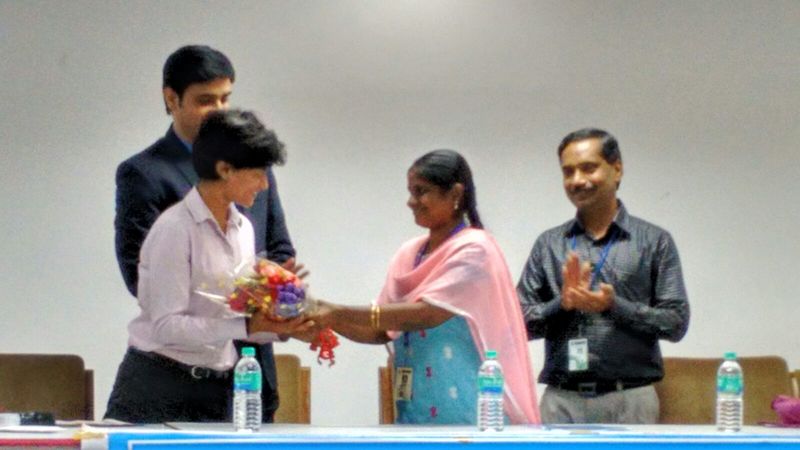 Many of you out there would be wondering what to do next in life and, proceeding as they are to the end of life's best phase, no one is more plagued by the question than students in their pre-final and final years. Some may choose to settle down with a secure job in hand, while others may want to pursue higher education, with an M.B.A, an M.S or an M.E degree featuring in the list. For those of you looking to do a higher degree in management at leading schools in India, the NMAT (Narsee Monjee Management Aptitude Test) exam by GMAC could be your key.
The Centre for Entrepreneurship Development (CED), in collaboration with Capitalize, recently conducted "Vision Entrepreneur" in the IRS Auditorium, where special guests from internshala.com were called in to give students an insight into the prospects of the NMAT examinations. Ms. Rahini Unaiyal and Mr. Sukanth Chakraborthy graced the occasion, taking the stage amidst much cheer.
The NMAT exam was recently acquired by GMAC - Graduate Management Admission Council (which conducts GMAT) - and has undergone a sea of changes since then. Several improvements are brought forth in the current installment of the exam, with many more on the cards.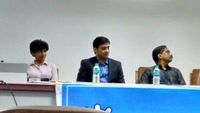 A lot of information on the exam was outlined by the cheerful Ms. Rahini in the session - she started right from the basics, guiding students on how to register for the exam. The NMAT exam is being accepted by 12 leading management schools in India like VIT, SRM University, Amity University, etc, the count of which they hope to increase next year. With around 65,000 students taking up the NMAT last year, the exam is conducted across 75 days in 18 cities. In addition, since a sizable number of students find it difficult to take the exam on a prescribed date due to unforeseen circumstances, NMAT by GMAC provides applicants with a long testing-window where one gets to choose the date, time, location and other details according to one's convenience. It is also possible to reschedule your date. Another added advantage to the NMAT by GMAC is that they let you take the exam three times during the cycle of examination, thus allowing room for improvement. "Students always deserve another chance to excel", they point out. A total of 120 minutes is allocated for 360 marks comprising of three sections - Quantitative Skills, Language Skills and Logical Reasoning Skills.
Mock question papers, guides and other material for preparation, are released this year. Registrations are currently going on and the last date is October 5th.
http://www.nmat.org.in/ is the website you should refer to for registering yourselves in the NMAT exam.