Hey, skimmers and scanners! This is JM from Industrial biotechnology, 3rd year. Unlike other writers let me tease your thoughts with an unusual topic. As the heading suggests, it isn't about any ancient, iconic wall built during the times of war in our state or city. It's all about a brand new red guy, raised between the two brotherly campuses at Guindy. One constructed centuries ago and the other established decades ago; each one is exceptional in their own ways.
As far as this red guy is concerned, he is located right next to a recently abandoned inn. The inn was a wonderful hangout spot for friends. The photocopy shop sharing the space with it adds up, making it one of the hotspots in the campus. It has been the only place on campus, where you could get anything from cold coffee to hot copies at a fair price. Such a restaurant had been closed for miscellaneous reasons, which even now students aren't aware of. Before the inn was closed, students from the various departments of both the campuses gathered here for chilling out and getting materials printed out simultaneously. Even after its closure, students from various years and streams walked in here for the "pappu's outputs" conveniently; until the red guy appeared. After his arrival, things changed. He never let people cross to the other side and terrified everyone with his gigantic height.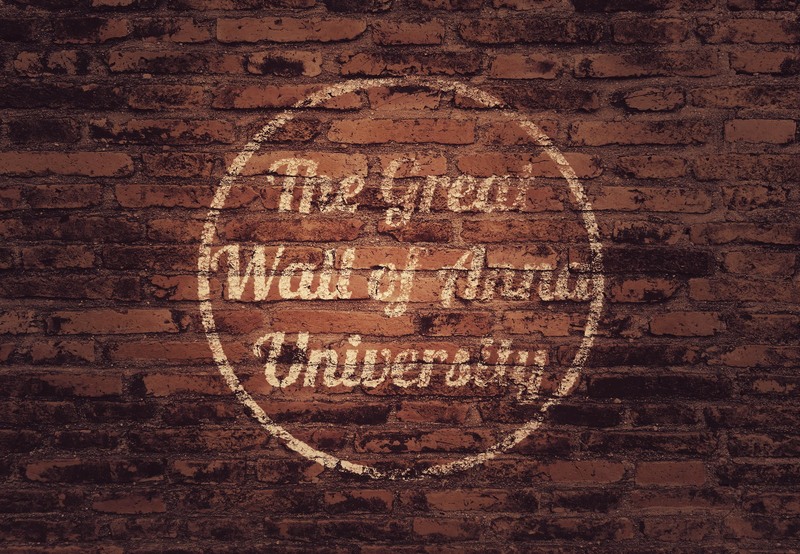 The wall personified here as the red guy was built after the inn shut shop. The only reason for someone from one campus to visit the other had been taken away. Even people from the other campus have to walk miles around buildings to reach their destination on the other side of the wall. Campus heritage, travelling frequencies, passion for walking and exploring, interest in doing logistic works for organizations, etc. retarded drastically in students over an isolated geographical location in the campus. I know people feel like I'm emphasizing a safety measure as a quality inhibiting factor. But, try taking a survey of organized activities and volunteers from the campus before and after the arrival of the red guy.
According to psychology, a small change in a factor with indirect effect has a greater impact, than a large change by a direct one. According to physics, the angle changed at the initial projection of an object can cause more path variations than the angle changed at the final moment. Similarly, with every subject, you can explain a theory relating to it and name it as a 'derived from for great wall coherence theory'. Sorry for being too technical, it's inevitable because that's how people think it really has an importance. This is how the small bricks of the great wall of AU brought a large effect on the lives of hundreds of students, at once.
P.S: When people in the world like to write about thermos-nuclear astrophysics to advancements in nano-biology, I loved to write on this because it had a direct effect on the daily life of more people than those topics did.