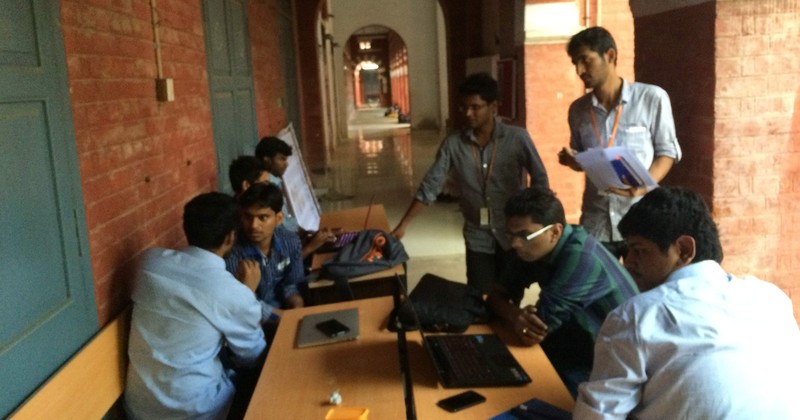 As I stepped into the SAAS office located at the ground floor of Maths dept, there were just a couple of chairs, laptops apart from a serious looking Core team discussion. The office, I must say, is plain and simple with a drawing board, bright lighting and a lot of pamphlets and posters awaiting distribution. When I ran out of things to look at, I tried to understand what they were discussing seriously because they looked like they would bite each other's heads off. But hold on, they were reviewing "Ennai Arinthal", having watched it in the morning as a team. After laughing it out, they quickly settle down to business. Vishak started responding to e-mails, Saarang and Shrutan were constantly making phone calls of confirmations and arrangements, Nishanth was going through the MoUs, NT was auditing finance statements, Darshana reporting on marketing, Druva helping me with my report (I guess, my hardly leglible notes cried out for assistance) while he was working on his Mac and Jayviz silently monitoring everyone.
With over a 100 WhatsApp groups just for organizing, Srinivas of marketing division explains how tedious marketing can get especially when targeting the whole of India. Akshata and Krithika say that direct marketing can really get to your nerves when you land in another college and the HOD or Dean there is too busy to give you permission.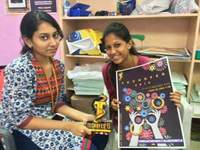 "So far, we've had a flash mob in Ampa and one is being planned in Bessie.", they explain. They have targeted almost 400 colleges in Tamil Nadu alone for Direct Marketing. On enquiry, we hear that almost a 100 mails and 500 phonecalls are exchanged every day and they are handled by just 5 or 6 people. This much effort put in, they say, is out of pure passion and not expecting the least of returns. The team really hopes to give back something to the college through Techofes.
Later in the evening (yes, I did stick around for a long time), there was a review session with the Dean and Student Advisors. A quick meeting was held with them to observe the progress so far, resolving legal issues, managing all the discrepancies and discussing any possibility of problems that might arise on the Big Days. I couldn't help overhearing some big names like stagela.com, SPI Cinemas and Eventjini in the conversation.
As Archana fills me in about the events planned for this year, she runs out of breath trying to give me the names of all the events. With a whooping 90 odd events scheduled over three days, even super enthusiastic participants are anticipated to have trouble picking events they want to attend. Apart from the popular events like Impressometer, Pick-up Drop Escape, Nanbaen Da. etc., news events like 'The Amazing Race of CEG', 'Young Reporter' and 'Poetry Slam' have been added to the list.
We have had amazing preludes like "T plus" and "T sharp" so far. Apart from these, the four nights during Techofes offer a lot to look forward to.
The Movie screening on the first night is exclusively for the students of CEG. The team promises that it will be a new flick but choose to keep it a surprise. The Pro-Shows starting at 6:30 p.m would go on till 10:30 p.m (hostelites don't worry, permissions have been sought!).
10th - Special movie screening(exclusively for CEGians)
11th - Official Inaugration (by Vishal Krishna and Vaibhav Reddy) followed by T for Talent (Concert with Singers Naresh Iyer and Saindhavi)
12th - Choreo night.
13th - Techofes Rockofes (Performances by winners of T sharp, Raagleela, Franks Got The Funk and Parikrama)
14th - Live performance by Gaana Bala followed by "Mr & Ms Techofes" conducted by RJ Balaji.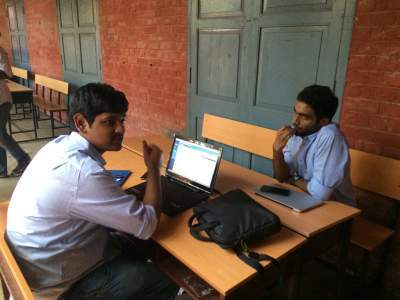 If 90+ events and 6 workshops aren't enough, they also have adventure sports like laser tag (in hall 13), paintball (sports ground) and water zorbing.
Druva has just one piece of advice for all students,
Don't miss out on the fun by opting to go home or sleep in the hostel. Being organized exclusively for us, grab every opportunity to be entertained.
Also, post Techofes, SAAS has organised a 'mass cleanup' on 15th morning to restore the campus' cleanliness. But that's a story for another page in the Techofes Diaries.