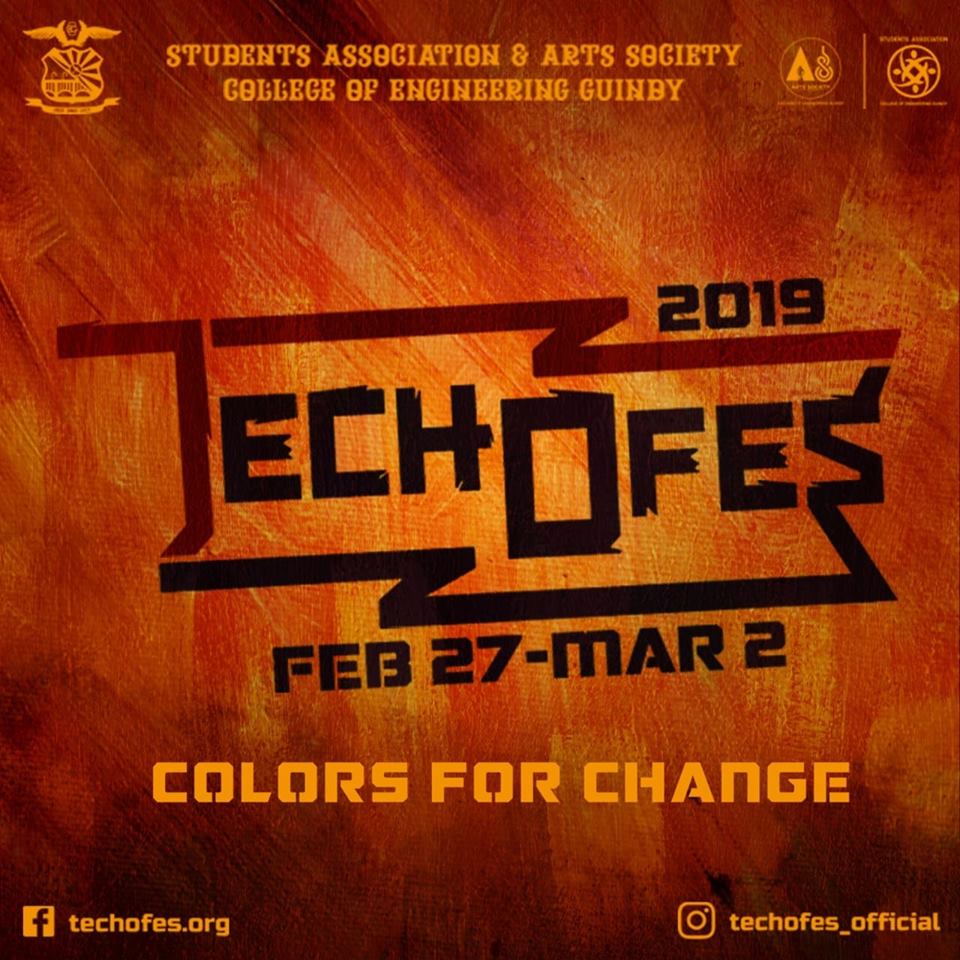 Techofes is the annual cultural festival of the College of Engineering, Guindy. It is an intercollege festival which brings the best talents of South India to its competitions, covering areas like music, drama, literature, games, arts and quizzing. Techofes 19 will be held from February 27th to March 2nd by SA-AS.
Interviewer: Kanimozhi Venkatesan (GT)
Interviewee: Team Techofes (SA-AS)
SA-AS (Student Association and Arts society) is a student-run organization. Let's hear about the making of Techofes 19 from the people behind the scenes.
GT: Where did the idea of having a theme come from? Also, why did u choose colours?
SA-AS: Our team had a brainstorming session and we decided that having a theme will be a good idea. We wanted a theme which is abstract and relatable, then we concluded to have colours. It is something everyone can relate to and we wanted to include certain social causes that need to be addressed. So, we finalized the theme as 'Colours for Change'.
GT: How will the theme 'Colours for Change' be depicted on the days of Techofes?
SA-AS: Techofes will be colourful and we have arranged a few special events which will be based on this theme and every element of Techofes will be related to the theme in one way or the other.
GT: How is the response to T-sports from the students?
SA-AS: For all these years, Techofes didn't have any event as such for sportspersons. Last year we had Techofes trophy for cricket alone. So, we decided to have it for the other sports as well. We included 14 other sports and made it like an intra-college sports festival. The response from the students was good, but since this was the first edition, the response wasn't as high as we had expected. However, it is a good beginning and will be successful if continued in the years to come.
GT: How does the SA-AS work collectively to make sure Techofes 19 turns out to be a grand success?
SA-AS: We are a team of 15 core members from Arts society and 6 members from Students Association. We work under various domains, but this year the manpower is less and hence each person has to share the work of other domains. We, as a team, are working together to bring the best out of us.
GT: How does your work differ from CTF?
SA-AS: There isn't much difference in the way we work. CTF and SA-AS, both are student-run organizations and work under the same kind of domains. The only difference is they work together to organize a technical fest, whereas, we work to organize a cultural fest.
GT: When did you start the work for Techofes 19?
SA-AS: Our team started the work right after Agni 19. It is the effort of so many students for almost three months to create one of the biggest cultural fests of Southern India.
GT: What do you think your team has done to make Techofes 19 better than Techofes 18?
SA-AS: We have introduced the idea of having a theme and T-sports. We have increased the number of events and introduced a new signature event called the 'Game Fair'. Moreover, it wouldn't be appropriate to make a comparison. Techofes is a prestigious event by our college and every year members of SA-AS (along with hundreds of students in CEG) have worked to create this glory. We will give our best to make Techofes 19 to live up to its past glory.
GT: Who are the people behind T-Awards? Is there a separate team working behind T-Awards?
SA-AS: Every year, there will be a Pro-shows core and a team that will work exclusively for T-Awards. But this year, due to reduced manpower, we aren't having a separate team for T-Awards and all of us are working for it.
GT: Being a part of SA-AS, how does it help you? How special is Techofes 19 going to be for you all?
SA-AS: Being a part of SA-AS, we learn to take decisions together. Working as a team, it develops our interpersonal skills and moulds our character. We learn to work and communicate with different people. To be sentimental, it is our last Techofes and we'll do our best to create the best.
The Guindy Times wishes the best for Techofes 19 and thanks to the team for their time. We are eager to witness the colourful gala.
Tweet