Sponsored by the Association for Computing Machinery (ACM) and collaboratively organised by CEG GNU/Linux Users Group (CEGLUG) and Free Software Foundation Tamil Nadu(FSFTN), Software Freedom Day was celebrated on 24th September, 2016 at the Ada Lovelace Auditorium, College of Engineering, Guindy.
As the saying goes, freedom is participation in power. Free Software doesn't mean Free of Cost, it means Freedom. It offers one the freedom to view and modify one's software, distribute the modified software and use it for purposes other than those mentioned. Software Freedom Day is a public education effort to increase awareness about the virtues of Free Software and to encourage its use.
A major part of the celebration included a few sessions and stall competitions. The day started with a talk on how to write a scalable, simple and small program using Linux terminal/GNU by Mr. Krupa. He expounded how a simple program and a single command in a terminal can be used to perform the more common tasks that require a much larger program when done without the GNU Utilities. It continued with another session on "Knowledge Commons" by Sibi, President of FSFTN. The session aimed at explaining the various Free Software that are equivalent to the Proprietary Software used normally and further examined why they are of much more help than proprietary ones.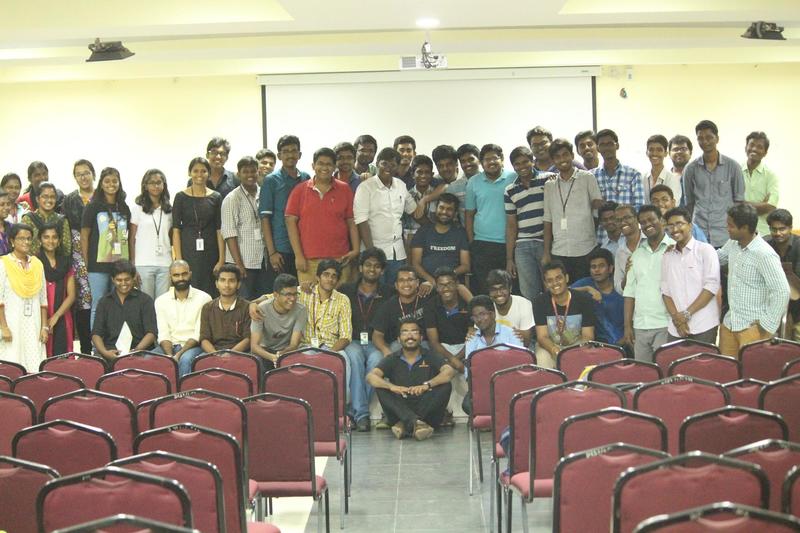 Following the session, stalls were exhibited. Several students from many colleges in and around Chennai gathered to take part in the contest. Students of St. Joseph's Institute of Technology (SJIT) and Jerusalem College of Engineering along with the students of CEG participated in large numbers to return home as the victors in this fun learning competition. Some of the discernible stalls were on Web Scrapping, Blender, Open Streets Map, Visual Studio Code, Open source Languages amongst others. The participants, the judges and the other gathered people enjoyed the exhibition which helped enhancing one's knowledge about the use of these softwares and helped them identify the developer in oneself.
The exhibition was later followed by sessions on Cloud and OpenStack, FOSSonomics, Surveillance, RUST Programming Language and PGP. The last session of the day was an interactive question answer session with Mr. Yokesh. All of the budding developers had their questions about Free Software answered through this session. The celebration ended on a high note by announcing the winners of the Stall Competition. Saravanan from CEG who had put up a stall on Open Source Languages and Shawn from SJIT emerged as winners and received cash prizes and certificates from the President of FSFTN and Dr. Bama, Assistant Professor of DIST, CEG.
The day emphasized on the use of Free Software and unfolded the various advantages associated of using them to the student society who mark the future of the coming generations. We all value Freedom above all, don't we? Hence let us all use Free Software and unbind ourselves from chains of Software subjugation.