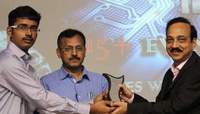 What was expected to be just another symposium in the ECE department, turned out to be a great and an exciting day for not just ECE students but other department students as well. This year, cited by teachers, as well as students, Resonance, the intra college symposium conducted by Electronic and Communications Engineers Association (ECEA), was exceptional and saw a lot of participation. It was held on December 17th. As stated by Devasakayam, the President of ECEA and a final year student, they took it upon themselves to give a good experience for their juniors. No one from the fourth year participated in any event. They did everything they could to organize all the events. The commencement of Resonance with an inauguration in TAG Auditorium was the beginning of many surprises that was in store for the oranizers. The auditorium was so full that people had to stand in the back to attend it.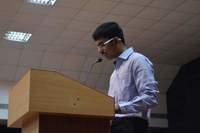 "We took it upon themselves to give a good experience for their juniors through Resonance"

The crowd exceeded the limits and was almost double their expectations. The organizers didn't even get a chance to rest as they were arranging extra rooms and materials for everyone to participate. The day saw a multitude of events and a large number of students used this as an opportunity to test their strengths. Some of the events that took place were Omega, Tech Wreck, Digitrix, Top Coderz, Tresure Hunt, Robo Kabadi, etc.
The commencing event of Resonance and the most attended one was Omega, where you were given a bunch of resistors and asked to find the value based on its color code. This was an exclusive event for second years and I'm pretty sure that everyone knows the famous 'BB Roy of Great Britan had a Very Good Wife' or an equivalent version of it.
In the event Top Coderz, the first and the second prize went to the CSE students, which must have been definitely spent at the Maggi Station. The event Brain Teasers was entirely about Logical thinking and mathematical skills. The first and second prize of this event also went to other department students.
In Robo Kabadi, the participants had to build a robot which could lift a given block of cube or a ball and place it in a given destination.
It was because of interdisciplinary events like these that students from other departments showed interest in an ECE symposium and made time to attend it.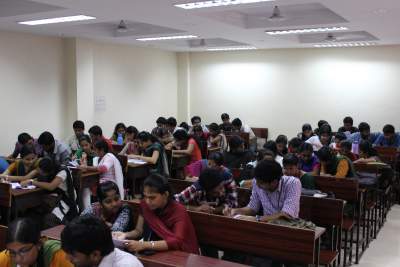 There was an event - Sine In – which challenges the participants in communication theory based concepts, like signals and systems, areas only known by ECE students. These events were aimed at getting the ECE students to get more involved and prepare themselves with more understanding in their subjects. Devasakayam said that they planned many events just so that ECE students would start learning the basics and get more involved in topics they might have not been interested in, before.
The event Tech Wreck was one where each participant would be given an electronic element and he/she had to talk about it for two minutes. How Stuff Works was about the working of general things from our daily life but something very minor that we might've missed, for instance, like the small round component in a laptop charger. This event made students very curious that after Resonance, they would've gone home/hostel and googled about the little things that goes unnoticed every day.
The most interesting event was Robo Kabadi, where the participating teams had to build a robot which could lift a given block of cube or a ball and place it in a given destination. A second year team built an awesome robot and got second prize. This shows that it doesn't matter which year you're in, only interest in the subject matters.
Students need a platform to get encouraged, and prove their abilities. Resonance provided that and it was a great success. Now, the overjoyed fourth years have even more fire in them and are ready to plan VISION, which is expected to be tenfold of Resonance. VISION is an inter-college symposium, and there will be participants from all the colleges from Tamil Nadu. Students, if you had to miss Resonance, be in the lookout for VISION!

P.S. The round component in the laptop charger is a filter which suppresses transient A/C voltages and minor spikes in the voltage supplies and stops the wire to act as a broadcast antenna for Radio Frequency Interference. Now You Know.