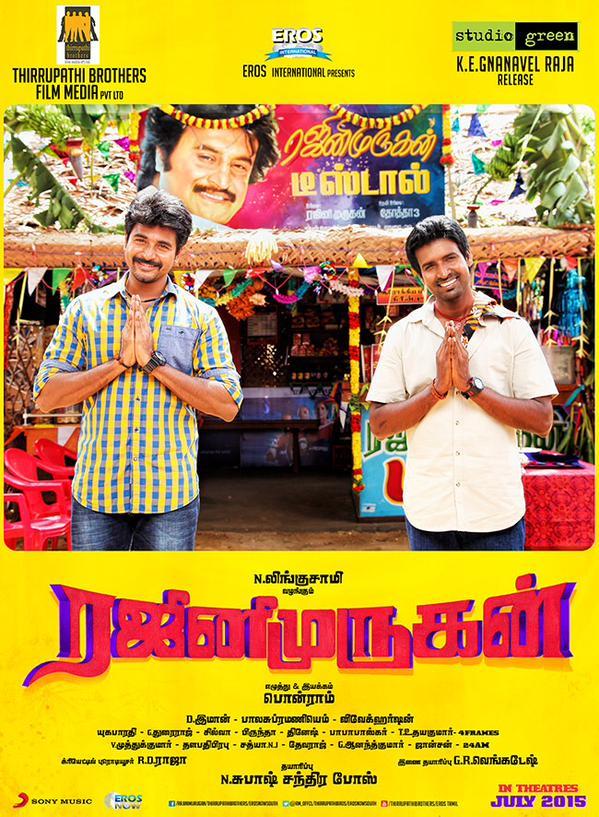 Sivakarthikeyan has been a household name ever since he started making us laugh our heads off in a reality show in a very famous channel. And man, he sure has grown a lot! I can honestly say that I had quite a laugh again watching his recent release Rajini Murugan. The film was good, but just good. Surprisingly, it has become a box office hit surpassing its other Pongal rivals. Pongal for Tamilians is a very delightful and colourful festival and maybe because Rajini Murugan had a combination of these, it rose up in the collection.
The film revolves around a very simple plot where our hero, Rajini Murugan (Sivakarthikeyan), tries to succed in life and get settled so that he can get married to the love of his life. Well, this is not an exaggeration because Karthika (Keerthy Suresh) and Rajini Murugan were destined to tie the knot by their fathers who were best friends, though, not for long. Karthika's father is shown as an ardent fan of Superstar Rajinikanth and even names his to be son-in-law after his idol's name but at present detests the very sight of our hero. Ayyankalai, the grandfather of Rajini Murugan, is a very famous and powerful man in town and he tries to sell his ancestral property to help his favourite grandson Rajini achieve his dream. But more than a few challenges lie in completing this task and this is where we get introduced to our villain "Ezhrai" Mookan (Samuthirakani) who also tries to claim rights to the property. The story then turns into a typical Tamil film where Rajini Murugan, along with his friend Thotathree (Soori), successfully sell the house and get settled. I honestly didn't know Siva had such a fan following but every move of his did create merriment in the cinema hall and in some cases, he deserved it. The Soori and Siva combination does justice the second time after Varuthapadatha Valibar Sangam (VVS) but are predictable since they follow the same pattern. One man who did give us a fantastic performance and was a pleasure to see on screen was Rajkiran who plays Ayyankalai. Not once did he lose his age old charisma and his stunts were far better than Siva's. Samutharakani also did a pretty decent job. Keerthy Suresh has made it big with this film and was indeed a treat to watch. Coming from a family of cinema, she plays her role naturally and grabbed the attention of our youngsters. D.Imman already got the film its promotion with the famous "ennama ipdi pandringale ma" song and has done a satisfying job. "Un mela oru kannu" is another song from the film that stands in our hearts for not only the music, but Keerthy Suresh as well.
Director Ponram's Rajini Murugan is good but resembles his previous film VVS a lot. The only reason it made it big is because of the inability of its counterparts and the cast which perfectly fits in with Madurai, but its high time Siva and Ponram come out of their comfort zone and treat us with something fresh.
Bottom-line: If one wanted to catch up with a pongal release, then maybe Rajini Murugan is the winner.
Rating: 3/5.