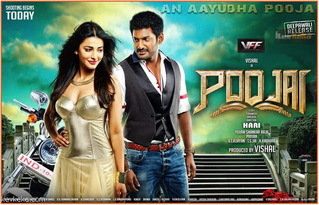 Kathi hype is over, so what next? Well, Poojai can be worth a one time watch. With a totally cliched story outline of director Hari's style, you can only sit back and expect either Yuvan's music or Shruthi's Tamil to impress you, which does as long as you don't search for logic. Vishal, needless to say is an impressive replica of his Thaamirabarani self. Its also very interesting to see many Kollywood actors of the 90s and Chinna Thirai coming together to do the roles of family members in the movie. The director has done a noteworthy job with the car chasing scenes beautifully portraying the navigations.
Coming to the details.
Poojai (translation: Prayer) is a complete masala film directed by Hari and produced by Vishal Film Factory, who also plays the lead role alongside an ensemble cast featuring Shruti Haasan, Sathyaraj, Raadhika Sarathkumar and Mukesh Tiwari. Yuvan Shankar Raja composed the soundtrack and score for the film,while cinematography and editing were handled by Priyan and V. T. Vijayan, respectively. Andrea Jeremiah also makes a special appearance for a peppy number.
The film is a "triangular action story" which starts in Coimbatore and ends in Patna, a story of Vasu (Vishal), who accidentally comes in the way of a contract killer Anna Thandavam. The misconceptions, coincidences and the consequences make Poojai.
Vishal is running small level finance business in vegetable market for reasonable interest. He has many friends like Soori and others to associate him in this trade and Vishal enjoys huge support from all the quarters. Meanwhile Shuti Haasan happens to become his friend but Vishal falls in love with her. When Vishal expresses his love she asks about his status which can match to love her.
Meanwhile Mukesh Tiwari who runs all the anti social activities with political support plans to murder the honest police officer Sathyaraj where Vishal saves his life. Now this gang will be after Vishal to eliminate him. How Vishal protects his family and eliminates the notorious Mukesh is the rest of the story.
Overall, "Poojai is commercial masala done well. There is action (punchy), sentiment (effective but not affecting), humour (silly but funny once in a while), romance (ludicrous and strictly functional), and the director manages to keep things ticking ―the action is often relentless, and the nondescript songs and the comedy scenes (Soori and Pandi doing a pale imitation of Goundamani and Senthil) are breathers for us".