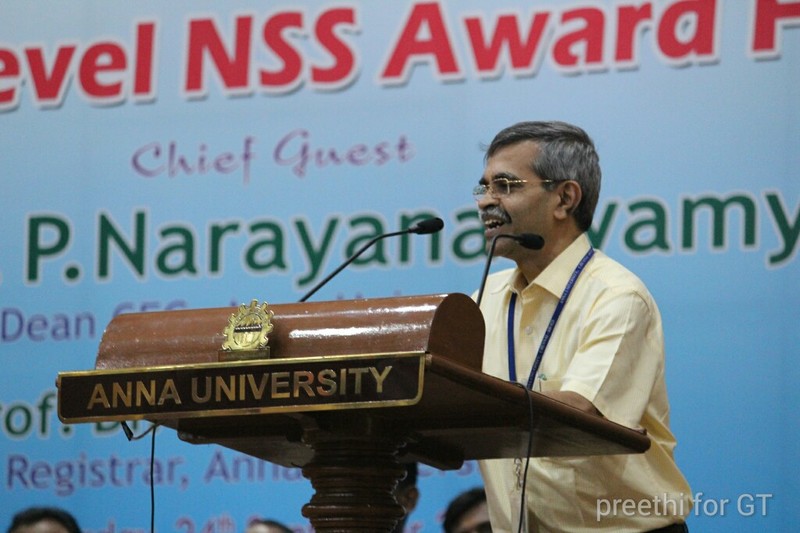 'Be the change you wish to see in the world' said Mahatma Gandhi. One way of realising this change is to be a part of the National Service Scheme (NSS). The NSS, launched on 24th September 1969, is a student-centered program whose primary aim is to inculcate the spirit of voluntary work among students and teachers through sustained community interaction. 24th September is celebrated as NSS Day every year with programs and activities organised on social service.
This year was no different with the NSS Unit 7 of Anna University hosting the day's celebrations. With the variety of events planned, it was all set to be an enjoyable day for the volunteers and participants of the NSS units from all four campuses.
The inauguration and thevaward function was held at the Vivekananda Auditorium. Among the dignitaries present were the Dean of CEG, Dr P. Narayanasamy, who was also the chief guest, Dr R. Ramesh, the program coordinator, Dr S. Ganesan, the Registrar and the Additional Registrar Dr S. Selladurai. The NSS's Regional Director Samuel Chelliah and regional co-ordinators from Trichy, Coimbatore and Madurai were also present. The event was underway with the welcome address delivered by Dr R. Ramesh. Awards were presented by the Dean to the deserving officers and volunteers of NSS units across Tamil Nadu. The "Best Program Officer" award was given to Dr T. Mala of Unit 7 who is also an Associate Professor at the Information Technology department of CEG. The "University Level Best NSS Volunteer" title was awarded to Karthick Baalakrishnan of Unit 7. As Michael Jordan once said "Talent wins games, but teamwork and intelligence win championships"; accolades were also awarded to the best NSS Unit. It came as no surprise when NSS Unit 7 of CEG were conferred the award for the same. The event concluded with the vote of thanks delivered by Dr M. Yuvaraj.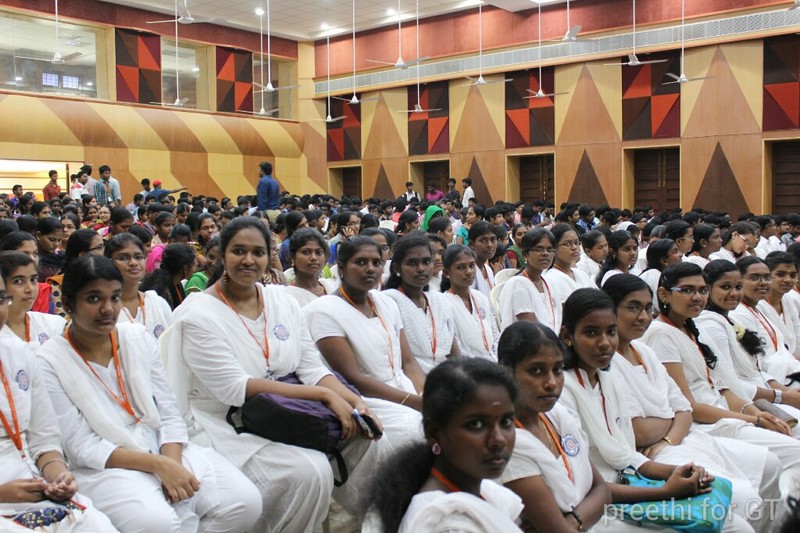 After the inauguration, fun activities like 'Paper Presentation', 'Poster Presentation' and 'Fun Fusion' were conducted for various units, followed by the 'Variety Show', held at the Vivekananda Auditorium. All the events were well received with over 150 first and second year NSS volunteers trying their hands at the different events.
During the felicitation, the winners were awarded certificates and shields by Dr S. Selladurai. The day came to a close with refreshments provided by NSS Unit 7 for everyone associated with the event.
The destiny of hard work is always success. The Guindy Times congratulates the organisers, participants and awardees for their efforts in making the day a grand success.