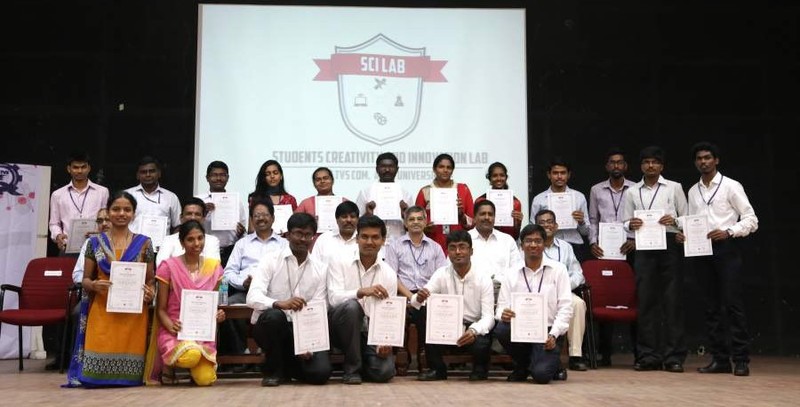 There is a difference between invention and innovation - the former refers to create something that has never before been created and the latter, innovation, aims to enhance an idea or an entity, to refine it to an extent that its complete potential be beneficial to the society as such. And in today's world, innovation seems to be the more substantial factor in governing the growth of the manufacturing hub, especially in our country.
The director of the AU TVS Center for Quality Management, Prof. Dr. K. Narashiman, had realized the importance of this notion. And hence, on the 10th of February 2015, the AU TVS Center were proud to inaugurate the Student's Creativity and Innovation Lab (SCI) at the TAG Audi. This SCI lab has been initiated for the students; its main objective being to create a platform for students to pitch in their ideas in any interested field, to refine their concept with respective mentors and if fruitful in the near future, gain support from various industries and to take it to the next level. In the SCI lab one can build/make products favorable for the society. An incubation centre for startup companies is under development; it is likely to materialize in the next six months.
The inauguration began with the welcome address by the Dean of CEG, Prof. Dr. P. Narayanasamy and lighting of the lamp. A short preface about the SCI lab was given by Prof. Narashiman, giving the listeners obvious reasons as to why such a lab needs to come into existence and how it's advantageous to the society and economy.
The function was also presided by the following dignitaries: Registrar - Prof. Dr. S. Ganesan, Chairman AIMO - Dr. M.S.Srinivasan, Managing Director of Solkar Solar Industry Ltd. - Mr.K.E.Raghunathan who also gave the Special Address; Keynote Address given by Head of Operations of NS Instruments - Dr.S.Rajkumar, also encouraged the crowd to take this initiative to the next stage, in terms of progressive efforts to keep the lab active, and to be motivated by and from the students.
Enroll yourselves cause SCI lab is hiring now. It's location is at the CPDE building in the ground floor below Centre for International Affairs. If you are someone who's made something interesting, or know someone who can do the same - big, small, silly, anything; let them know so they can feature it, guide you in the right path and connect you with the right people.
Let's not just be engineering graduates. Come, Let's Engineer something.