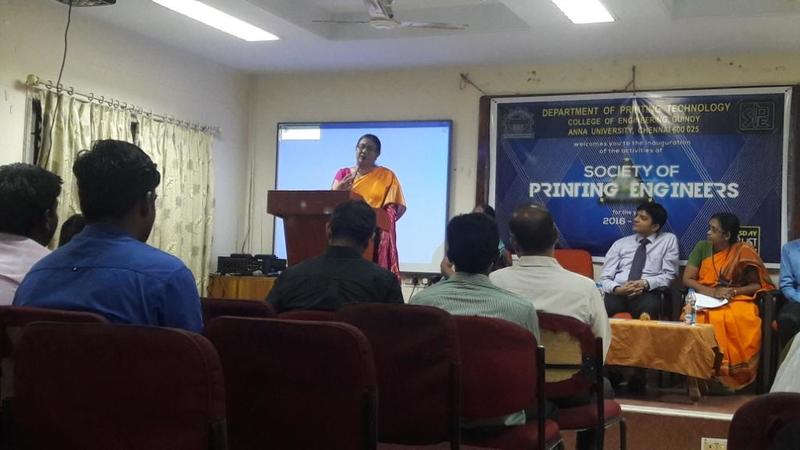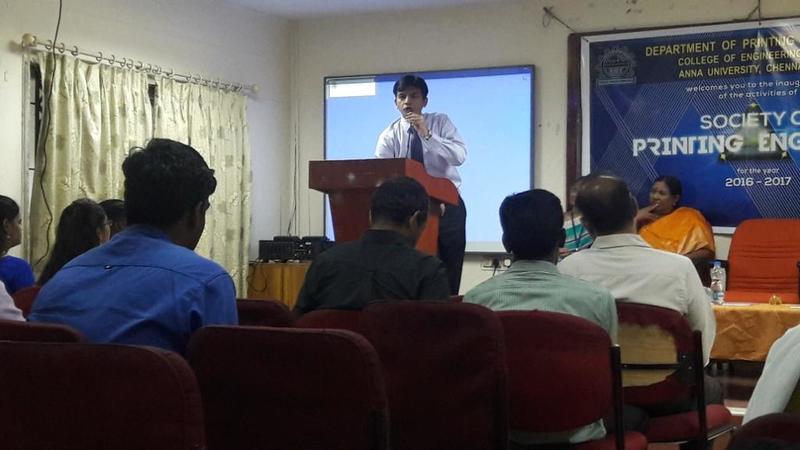 Does an inaugural event only include lamp-lighting and engineering related lectures? Sometimes, it's a lot more than what you expect. The inauguration of the activities of the Society of Printing Engineers organised by the Printing Technology Department saw both Chief Guests, Dr.T.V.Geetha and Vinothkumar Balakrishnan, share a few refreshingly different words with the students.
Dr.Rajeshwari, the President of the Society of Printing Engineers, gave a brief introductory speech on the career achievements of both guests. This was followed by the welcome speech, delivered by General Secretary Vignesh Kumar.
Dr.T.V.Geetha, the Director of the Centre for Academic Courses, first took the stage to impart a few words of wisdom. One particularly valuable piece of advice was, "Develop passion and involve yourself in activities conducted by the society. Moreover, enjoy your student life not just by using WhatsApp and Facebook, but by involving your group of friends to innovate."
Dr.Geetha concluded her speech by saying that Printing Technology needed to go towards the personalization and customization of the digital footprint of every student.
Vinothkumar Balakrishnan, Sales Manager at Quadtech Inc., delivered a succinct and motivational speech. Some of the key points he covered regarding the path to success included:
Learning to set goals and plans of action
The importance of positive attitude
The value of clear purpose and persistence
The lessons learnt from failure
The unison of the heart and mind
The necessity of self-satisfaction
He concluded his speech with the age-old saying- "Success is not a destination, it is a journey."
The session came to a close with the vote of thanks given by the Vice President of the Printing Technology Department, Mrs. Kanchana.
The words spoken by both Chief guests resonated strongly with the students. There was a general sense of optimism in the air as every student could visualize the impact of their future contributions in the field of Engineering and Technology.