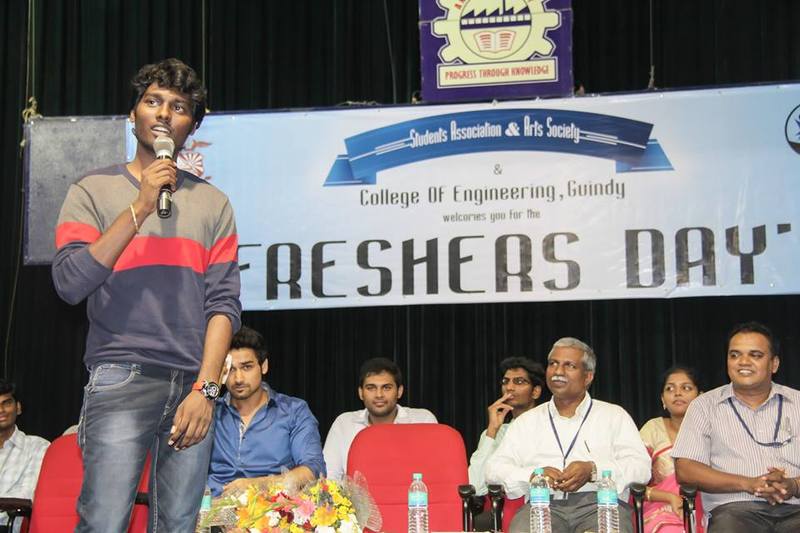 With only a week into college, the freshers couldn't have asked for a better welcome. The first event of the year, the freshers'day, organized by the Students Association and Arts Society (SAAS) of CEG was a trailer on what to expect in the forthcoming years at Anna University. The exuberance and glee on the new comers' faces said it all.
At 4:30 pm, the event kicked off with a promo on the college hockey team, followed by an interactive session with the juniors. Being asked random questions by the host, the freshers had a great time.
It was at around 5:00 pm, that the auditorium was filled with excitement. Director Atlee and our college's "Amul baby", actor Amitash Pradhan made their way in. The crowd became overjoyed. The dean of CEG, Dr.Narayanasamy delivered the welcome speech. The students' advisor, Dr. Swaminathan addressed the freshers.
The freshers lost their voice screaming when Director Atlee addressed them. Actor Amitash won the crowd's hearts by enacting Actor Dhanush's famous monologue from the movie Velai Illa Pattadhari. This was followed by an interactive session with Atlee. He said that his role model was none other than the SUPERSTAR himself and that his favourite dialogue of his Guru was from the movie Padayappa, "Adhigama aasai padra aambalaiyum, adhigama kovama padra pombalaiyum, nalla vazhndhadha sarithiram illa!" Need I say more?
The SAAS website, www.ceg.co.in was officially launched. The dignitaries were thanked by the students' advisor, Dr. Pradeep for making the event a success. The party was yet to begin. At 5:45 pm, the CEG Spartanz performed a variety show, followed by a dance performance by Aakriti, the women's forum of CEG.
The interactive session with Actor Amitash started at 6:30pm. The actor proved that his voice was as good as his looks when he sang "Oodhungada sangu" from his movie VIP. This got him a few marriage proposals from the audience. He shared his experience working with Actor Dhanush and also his life at CEG. He shook a leg for " What a karuvad " along with the students.
The official dance crew of CEG, the Solomon twisters kept the crowd spellbound with their performance. This was followed by a scintillating show by Sruthilaya, the music club. The clock struck 7:30, when the freshers left the auditorium to enjoy their first open air theatre experience with the movie Velai Illa Pattadhari.
The freshers' day was a wonderful entertainer and a sensational welcome party for the budding bright minds of Anna University. But this is not the end! There is more to come! The college will leave you with bundles of memories, that will last a lifetime.
The author is a bubbly, cheerful, typical Chennai girl who one day dreams to visit all the places in the world.