Dragon Blade? What movie is this? When did it release? I had the same questions in mind too. After coming to know that it was a Jackie Chan starrer, I decided to give it a go. So there may arise another question in your minds. Why Dragon Blade and not Fast and Furious 7? I went to the theatre a day before F7 released and the prospect of seeing Jackie Chan on the big screen thrilled me. That's the story of how I ended up going for Dragon Blade.
Huo An (Jackie Chan) heads the Silk Route Protection Squad. One day he is falsely accused under smuggling charges and is sent to work on the rebuilding of the city, Regum. Fate brings a Roman General Lucius (John Cusack) to cross paths with Huo An. How their lives intertwine and how the city is built forms the rest of the story.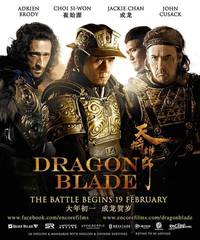 The movie is a great platform for the actors to exhibit their acting prowess and they make optimum utilization of it. But the movie is just that. It's totally off beat and slacks in several places. Although the movie lasted only two hours it seemed like four hours to me. It gave me the feel of watching a documentary with A-rated stars. I did get to see some fine sword wielding and martial arts. But apart from superb acting and martial arts, there isn't anything to admire in the movie. The background score was overpowering in many scenes, making the dialogues less audible. Also some scenes had been captured just for the sake of 3-D, which could have very well been avoided.
It failed to have the audience engaged and at the edge of their seats in anticipation. The only thing which had me engaged was the popcorn. And let me tell you, popcorn tastes great and makes a great buddy when you watch a movie like Dragon Blade. Overall, Dragon Blade was a Blunt Blade.