Conclave is the initiative taken by the students of the Rotaract club of CEG and ACT to invite inspirational speakers from around the world to enlighten the thoughts of the students of Anna University. It was launched on 13th April, 2013 after a successful decade of Sangarsh (a musical concert organized to raise funds for the needy).
The speakers of this year's event were Preethi Srinivasan (co-founder of Soul Free organization), Merin Joseph (youngest IAS lady officer), Badri Seshadri (co-founder of cricinfo), Suhani Shah (the girl with many hats) and the brothers Shravan and Sanjay Kumaran (youngest CEO's at Godimensions).
The first speaker of the day was Preethi Srinivasan. For those who don't know, she was the captain of the Women's Under -19 cricket team and a champ swimmer. Due to an unfortunate accident, she was left paralyzed below the neck and works using only speech recognizing software. Today, she wins the heart of thousands by the talks she gives and helps other disabled people to stand on their own feet through her organization, Soulfree. Through her talks she advises the students to be organized and follow the dreams and careers which they love.
She also tells that for a person who is disabled, it is not the end of the world and that whenever one views a disabled person he/she should not feel pity but should respect that person as he/she wouldn't last one day in that person's place.
At the end of her talk she asked each and every one to sit simply without moving a muscle for five minutes. To everyone's surprise, not one person was able to accomplish this task successfully. Through this she was able to depict the obstacles faced by her, not for five minutes but throughout the year.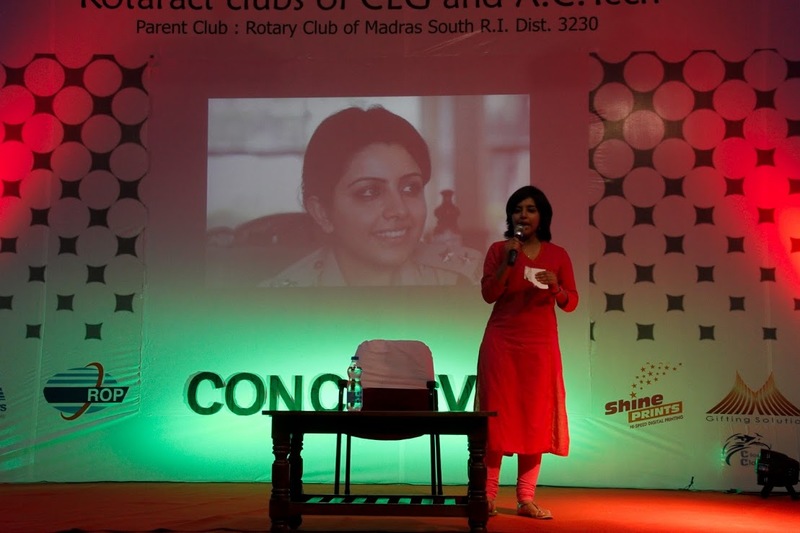 Next on stage was the bold and dauntless Merin Joseph who is the youngest Assistant Superintendent of police, Moonar. She entered the IPS training at the age of twenty-two and had her first posting in Kerala. The message she conveyed to the youngsters is that it is never too late for you to follow your dreams and to reach the goals that you set. She says that there is no other career that is as fulfilling as that of a civil servant because through such a career one can reach out to a number of people, particularly the poorer sections of the society and can make a difference. She concluded her talk by saying that no matter what obstacles we face in life; we have to keep moving forward.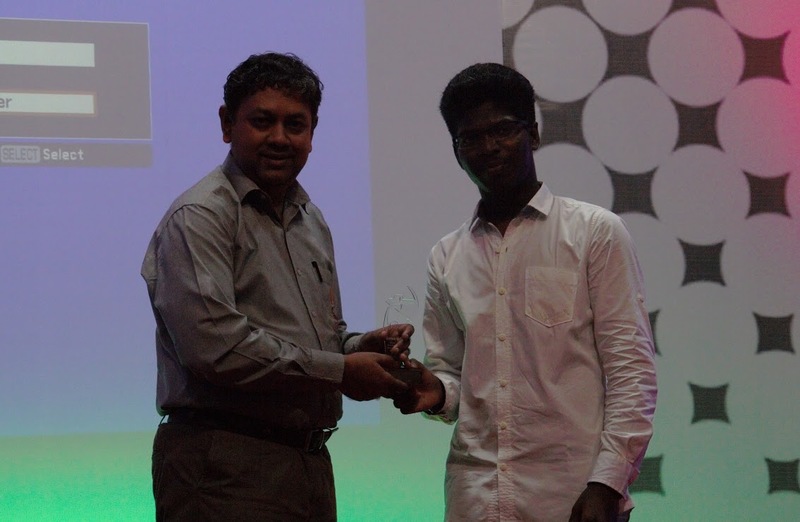 Following her talk was the talk by Mr. Badri Seshadri who is a mechanical engineering graduate from IIT Madras, the co-founder of cricinfo and the Managing Director of New Horizon Private Limited. He gave his talk in Tamil which was very much appreciated by the crowd present there. He says that your career is THE most important part of your life and that we should follow a career which gives us fulfilment. If a career does not give you fulfilment, feel free to reject it and go behind your dream.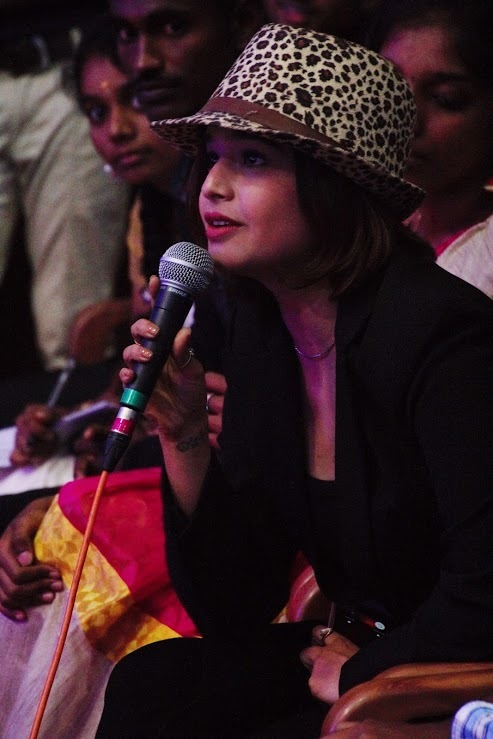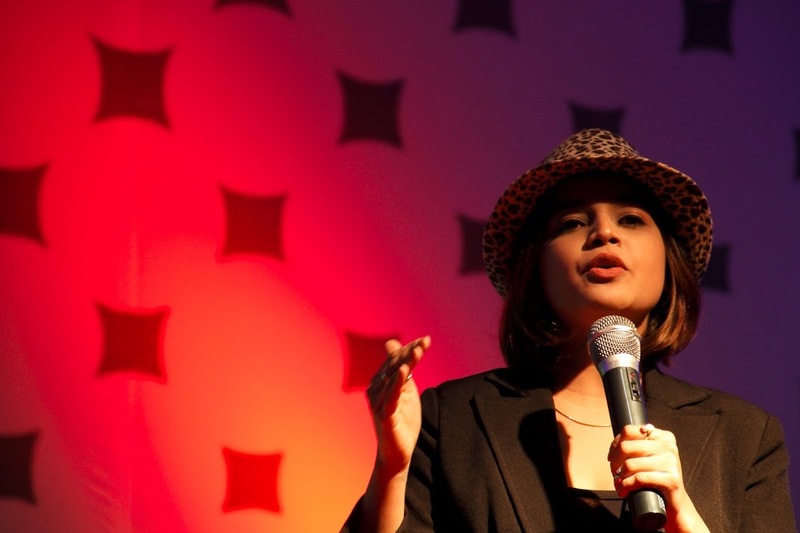 After his talk, the gorgeous and ever elegant Suhani Shah shared some of her thoughts with the students. This is the second time that Suhani has made an appearance in Conclave. She is a person with multiple talents and is a nation-wide sensation. She is basically an author, a life coach, a keynote speaker and best of all AN ILLUSIONIST. This year her talk was mainly focussed on HOW TO BE SUCCESSFUL IN LIFE? She believes that the two main characteristics to be successful are: - to be DESPERATE to be successful and to BELIEVE that you can do it. She says that the day we use our mind positively, our body energetically and our time productively, there is nothing in this world that we cannot achieve. She concluded her talk with a mind blowing magic trick through which she read the mind of a random person sitting in the audience and said the name of his first crush by reading his mind.
Finally, the wonder brothers Shravan and Sanjay Kumaran were brought on stage. They are the youngest CEO app developers of India and they have their own company called GoDimensions. Shravan Kumaran, aged 14, is in his 9th grade and his sibling Sanjay Kumaran, aged 12, is in his 11th grade studying in HUS. Both the brothers expressed their excitement to be present in Namma Chennai's Anna University. So what do they do at GoDimensions you ask? Well basically they develop apps for the apple, android and the windows platforms. They have created many useful apps such as Catch Me Cop, Alphabets Board, Prayer Planet and ETC which are all top rated apps. Their latest achievement was their version of the Virtual Reality software (Living the game). They got the urge to build it from the Oculus Rift which was a Virtual Reality gaming software which was too expensive at the time. So they wanted to construct their version of these Virtual Reality goggles and sell it at rates which were affordable. They also achieve their goals of helping the needy by giving ten percent of their profits to charity.
The event concluded with the vote of thanks by the president who mentioned that the event was a great success because of the unified effort put in by his team.
He quoted "Individually we are one drop, together we are an ocean."