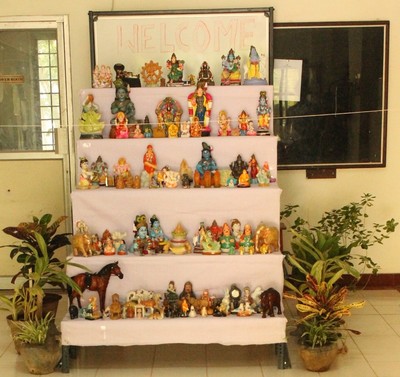 Lights! Music! And Dance! Sounds like celebrations to me. Yes, it is indeed celebration time as the entire city is busy celebrating Navarathri. And so is our college. I do know many of us are unaware of this special thing that is taking place. The department of Media Sciences in our own campus is celebrating Navarathri in every aspect.
Our campus is famous for innovative celebrations and this Navarathri is no exception. The department has joined hands with the faculty members and students in making the arrangements required for all the 9 days. There are lot more interesting stuff happening like how the students and the faculty members follow a particular color in their dress code for each day and design rangoli with the magic of colors symbolising each day's significance. The Head of the Department, Dr. S. Gowri, has given full freedom and support to the staff and students in making this celebration a succesful one.
It also includes a traditional gollu that stands tall in the entrance which has been set up for this special occasion. The pooja takes place after the class hours and each day a special guest is being invited to give a small lecture to the students. The special guests are not only the people who talk about Navarathri but includes a range of people from different fields starting from a school's Correspondent to a retired High Court judge. It provides an opportunity for the students to interact and know about different fields as well.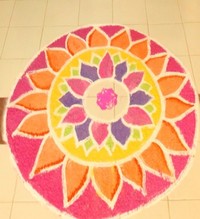 And when it comes to celebrations isn'it food that pops in our mind first? And yes the DMS doesn't compromise on that too! Each day after the pooja students are given delicious prashadham like sundal, kesari etc., which is again, prepared by a team of students.
All the students and staff are invited to this special occasion that comes to an end by this week. If the campus is our second home, surely we shouldn't be missing an occasion like this.