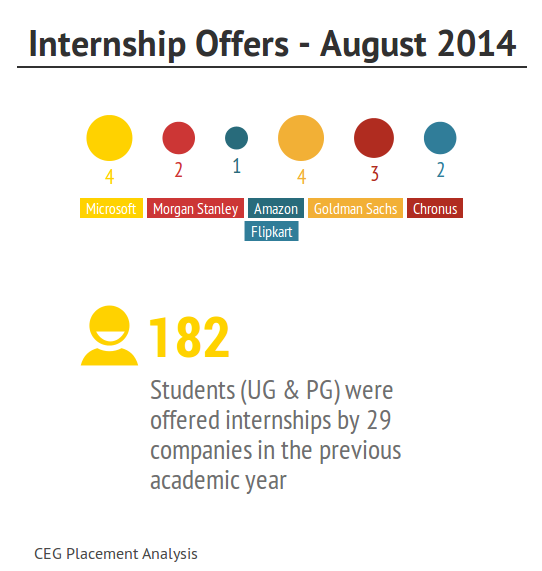 As the placement season is indeed upon us and everyone goes ga-ga about their placement packages and getting their dream jobs, another important task carried out by the CUIC (Center for University Industry Collaboration – also in charge of afore mentioned placement activities) is to coordinate with both the companies and the students for internship opportunities.
Many companies that come for recruitment in the final years also look for interns from the 3rd year. An internship allows the company to evaluate the student over a period of time to ascertain his/her value, making the recruitment process easier. From the viewpoint of the student, an internship adds valuable corporate experience, and gives a glimpse of an actual working environment. Students who perform well may then get Pre Placement Offers (PPOs), making their placements all the more easier (and adding a decent amount to their bank accounts too!).
Interns recruitment, like full-time employee placements, happen from July to next June every year. Internships were offered even during the months of May and June in the last academic year. A grand total of 182 students (UG and PG) were offered internships by 29 companies in the previous year.
Beginning with May, here are some of the figures on the internships handed out:-
8 students received internships from 4 companies.
| | | | |
| --- | --- | --- | --- |
| Sl. No | Name of the Company | No. of Students Selected | Stipend (Rs) |
| 1. | Renault Nissan Technology | 3 | 10,000 |
| 2 | Michelin India | 1 | 10,000 |
| 3 | TVS Motor Company Ltd | 1 | 15,000 |
| 4 | Cognizant Technology Solutions | 3 | 10,000 |
In June 2014, 1 student was offered an internship by Daimler India Commercial Vehicles Private Ltd. with a stipend of Rs. 12,000.
In the month of August, 2014 35 students (UG & PG) were offered internships by 9 companies for the summer of 2015. Some of the companies which have offered internships are Microsoft, Amazon, Goldman Sachs, Samsung and Morgan Stanley.
In conclusion, various internships are being facilitated by the CUIC for the benefit of students. CUIC facilitates the written/online preliminary tests and interviews for the various companies. Hearty congratulations are in order for all those that bagged one and hopefully this will motivate the others to fight doggedly for one of their own!