Just as a mother's love is evident and undeniable, a father's love is intense and subdued. If permanence is the essence of mother's love, transience is the beauty of father's love. Yet a father's love is always underrated.

A father grows with the child. No one understands the evolving needs of the kid at the different stages of growing up, better than the father. Their dreams and aspirations begin to revolve around the kid. Their happiness and needs take the back seat. Success tastes better, when it is their child's. Every small trivial decision of their child's life is re-thought, analysed and revised a million times, for they never want to err, even unconsciously.
But all this love often goes unrecognised and uncredited for.

Every father kid relation is different in its own way. That's what makes it all the more special. It's almost impossible to define one with reference to another. But sadly, the world seems to credit only certain actions and not others, setting norms for a bond that could never be the same.
My dad did not build sand castles with me on the shore, nor was he my first sports coach. He did not teach me to drive a car nor did he catch my bicycle as I tumbled past narrow lanes.
Every father kid relation is different in its own way. That's what makes it all the more special.
Yet, the bond that I share with my dad is unimaginably special and breathtakingly beautiful! He was there attending my school functions, cancelling his meetings. He seldom left, even for those urgent 3am flights, without bidding me goodbye. His eyes glisten with happiness when he sees me enjoying the little things I love. Good morning messages from miles away, managing to remember every small detail from a class test to movie plans, appreciating and recognising every infinitesimal achievement. His warm smile never fails to make my day.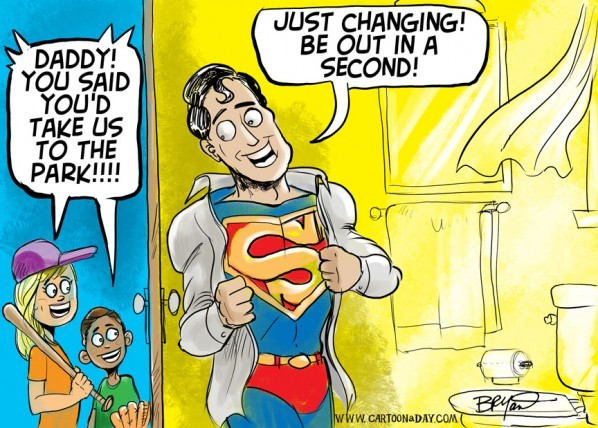 He was still my first teacher. He taught me hospitality and putting other's needs over mine. He pushed me to be the independent strong girl that I always wanted to be, just as he taught me the importance of a beautiful well knit family and the sacrifices that need to be made. He taught me the need to do the things in life that make me happy just as he made me realise how mandatory discipline was. How achieving in style was just as important as achieving itself.

His mere presence brushes aside all feelings of fear and discomfort. The sense of security that eases everything. How his little gestures make me think that I'm his most precious treasure, his princess.

All fathers care to crazy limits and wish nothing but the best for their children. Their sacrifices and love is incomparable, but the credit often gets buried in the bustle of our everyday lives.For all the it-will-be-alright hugs, for taking my side, always, for trusting, for making me smile, for being a friend I always wanted and most importantly for giving me the love that knows no bounds,

To my incredibly wonderful dad and all the other amazing dads out there,
Thank you so much!
And
Happy Father's Day! :)