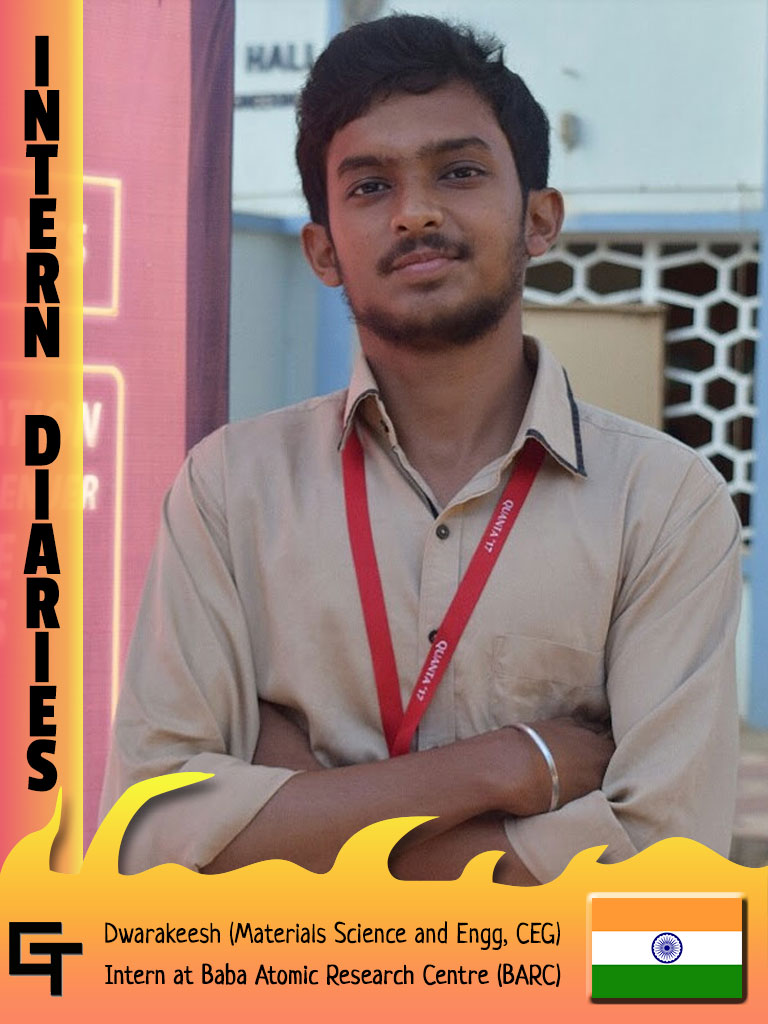 Intern Diaries is a series of interviews by the Guindy Times. This brand-new initiative is to help students know more about internships from their seniors who have done it recently and finished it off with excellence. This series will help juniors lead the path to various opportunities with ease.
Dwarkeesh S. Rajan is a final year student from Materials Science and Engineering, Mechanical department of CEG campus. He did his internship at the Bhabha Atomic Research Centre, Mumbai (BARC). His inquisitive attitude and a keen interest in research studies made his way to BARC easier. He shares his experience about his internship at BARC for Intern Diaries below.
Interviewer: Kanimozhi
Interviewee: Dwarkeesh S. Rajan
GT: Welcome to GT's interview session! What is the best time to start applying for internships?
DR: Thanks for inviting. The ideal time to start applying for internships is during the month of December or January, which is 3 to 4 months prior to your 6th semester vacation.
GT: How did you know about the internship at BARC?
DR: I got to know about the internship at BARC through my friends and colleagues studying in other colleges. I visited the official BARC website and followed the instructions and procedures there to apply for the internship.
GT: Why was BARC your choice?
DR: BARC is a central government research-oriented organisation which offers really good research internships in various fields. Doing an internship there will give you a good insight on whatever topic you want to research. Moreover, I could spend my vacation at home, which is in Mumbai, and still do my internship. So, I didn't have any accommodation problems, but the institute does provide accommodation for research interns.
GT: Are statements of purpose (SOPs), letters of recommendation (LORs) and résumés mandatory?
DR: Yes, they are mandatory. Your SOPs and LORs speak for you wherever you apply for an internship. Many have a problem creating their SOPs due to which they lose out on many opportunities. Your SOP should specify your area of interest. I strongly feel that it is necessary to develop our SOPs by the time we reach the third year as most organisations and institutes ask for your SOPs and judge you based on that.
GT: How did they select internees from all the candidates?
DR: Typically, a decent CGPA is required but still it is only an initial filtering criterion. Your SOPs are the ones which will really make a difference. The ongoing projects at the organization and the availability of guides also affect the selection process.
GT: What is your internship about?
DR: My research is about Molecular Dynamic Simulation. We used a software called LAMMPS, which was completely new to me. So, I had to start with the basics of the software which took me quite some time. We started trying to solve some complex problem statements and applied some conditions to get the result. Finally, I had to submit a report detailing the results of those problem statements.
GT: What was the most challenging part of your internship?
DR: As I said before, solving those complex problem statements was the difficult part. We only got results that didn't match our expectations during the initial stages. During those times, we tried hard to manipulate the code and other parameters associated with the software. We finally got the expected results. It was a time-consuming process as we had to figure out what the problem was. But when we got the expected results at the end, it felt really good.
GT: Was coding necessary for the internship?
DR: Not exactly. Some prior knowledge of coding would be an advantage but clearly, it is not necessary. In fact, LAMMPS was an entirely new domain for me. Though I knew C and C++, it didn't help much during the research process.
GT: Did you ever feel hopeless and felt like giving up in the middle of the process? If so, how did you overcome it?
DR: I didn't feel like giving up but when we got results that didn't match our expectations, I was a bit disappointed. It took almost 3 days just to figure out what went wrong. During those times, there were some frustrations as plenty of time was just spent on thinking itself. But I realised that by solving this problem, I would learn something even if it takes my entire internship period. I motivated myself to work patiently on solving the problems so that I would have an edge over other people. Self-motivation is all that matters and it will help you overcome all the hurdles you encounter.
GT: Do you think you could have learnt some things before the internship? Would brushing up on subjects you've learnt in college have helped?
DR: My basics were good but I took quite some time to learn the software. Maybe if I'd had some prior knowledge about the software, I could have proceeded with the research faster. I could have saved time and concentrated more on the research part.
GT: Would you recommend an internship in BARC for others? Why?
DR: I would surely recommend BARC to my juniors. BARC would serve as a great platform for people interested in research studies. Being a government organisation, it has very good facilities. An internship at BARC can motivate you to even pursue a job there.
GT: What do you have to say to juniors about internships?
DR: They should have strong basics. If their basics are good, then building up won't be a problem. They must also learn to develop their SOPs.
GT: What is your opinion about "Intern Diaries" by GT?
DR: I feel that it is a great initiative by GT. Since there are so many avenues available to juniors, it'll be difficult for them to make a choice. This series may help them to make their choices and know more about internships.
GT: Thank you for your time and patience! We are glad to have you as a part of Intern Diaries.
DR: My pleasure!
The Guindy Times thanks and wishes Dwarkeesh all the very best for his future endeavours.