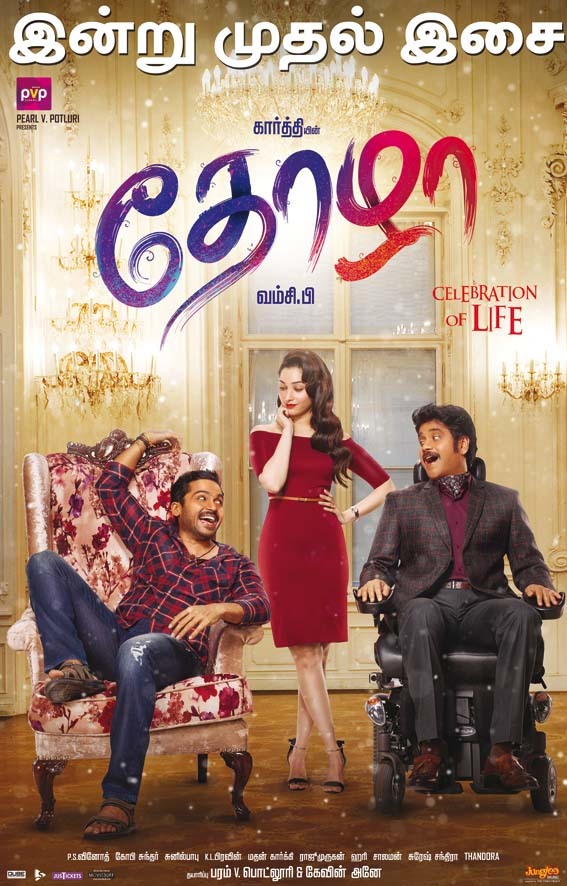 "10,000 rupees bet. They won't be able to touch me," Karthi told Nagarjuna. I looked at my mom and said "10 rupees bet. I won't be able to sit through this movie." My mom shushed me and continued watching intently. I hesitantly stared back at the screen. In retrospect, it wasn't all that bad even at the beginning. Karthi did look good and Nag's glassy eyed face was fine by me. But then I was eventually drawn to the screen, the reason being the amazing car they were driving. A Mercedes Benz. And it didn't stop there! There was a line-up of cars which literally had me swooning. A Bentley, A Rolls Royce, A Merc, A BMW… name it and you will see it. Grandeur was spelled out loud in every scene. Right from the home to the cars to the interiors, it was splendid. Looks can be deceptive! But I was willing to find out if the movie was just looks or substantial. With all apprehensions lost, I sat back to look at what the buzz was all about!
Thozha starring Karthi, Nagarjuna and Tamannaah is the official remake of the well acclaimed French film "The Intouchables." The movie revolves around the unlikely friendship which strikes between a quadriplegic millionaire and a caretaker with a criminal background.
As the movie progresses, the laughs kick in and the entertainment starts. Humour is interlaced throughout the movie which makes it a hearty watch. The film treats itself lightly which is a major highlight. Had it been melodramatic anyone would have been exasperated. Though there were sentimental touches with the second half being a tad bit overemotional, the movie was quite a fun watch. The thing which struck me was the camaraderie between Karthi and Nagarjuna. The brotherly affection and bond they share makes the movie special. Watching such a bond was quite a treat. They make you laugh and feel their joys and sorrows along with them. The characters struck a chord with the audience. And that's what makes the movie what it is. Nagarjuna should indeed be praised for having tried to bring to life a quadriplegic millionaire and that too quite successfully. You just have to emote using your face, while your body is chained to a chair. A commendable feat indeed. Coming to Tamannaah… honestly, she didn't have much of a role. Dress good, look good, make Karthi drool over her, accompany Nag everywhere… end of role. Prakash Raj quips in to add flavor to the movie. With a lot of special appearances, Thozha was a star studded affair.
Moving over to the technical side - the cinematography was very vivid and lively, just the thing you need for a movie 'celebrating life', as the tagline says. The visual effects used in certain scenes could have been better. With the audience now accustomed to higher level graphics, it could have been more realistic. The screenplay never had you bored nor did it make you look at your watch. It didn't miss a beat and was quite engaging. The songs weren't really appealing though. The background score was good enough but the songs weren't that pleasing.
Though the story doesn't have major twists and turns, the treatment given to the film makes it stand out. The lead actors just lived right off my bucket list - drive a Rolls Royce, go paragliding, visit Paris, and go on a chartered trip on a plane… man! Nevertheless, not only did the actors live their parts, they made us enjoy along with them.
Big spoonful of humour, melodrama, exotic locales, stunning cast, romance, a good storyline and great screenplay - Thozha has all the elements in the right proportions. It definitely is worth the while with your family. Young and old alike turned up in large numbers to watch this movie and were definitely not disappointed, for at the end when the credits started rolling everyone gave a standing ovation. That gesture speaks volumes about how the movie was. In the end I did enjoy the movie as did my family. So I did lose my bet, but it was insignificant compared to the many hearts the movie won.
Rating: 3.5/5
Lesser known facts related to the movie:
1. Karthi and Nagarjuna had such a great rapport that Tamannaah felt left out during shoots
2. Nagarjuna's family initially did'nt want him to take up the movie, as they couldn't see him essay the role of a quadriplegic. But, after they watched the movie, they were all praise for him..
3. Tamannaah dubbed for the first time in the Telugu version Oopiri
4. Nagarjuna dubbed for the first time in Tamil for his character.
​5. An assistant director had been appointed just to check if Nagarjuna moves his hands or legs. Even ​if he moves an inch, they had to re-shoot the entire scene again.
6. This was the first film to shoot at Belgrade.
7. Nagarjuna last essayed the role of a hero in Kollywood in Ratchagan followed by which he was seen in a crucial role in Payanam. After a break, he is back again in full form with Thozha.