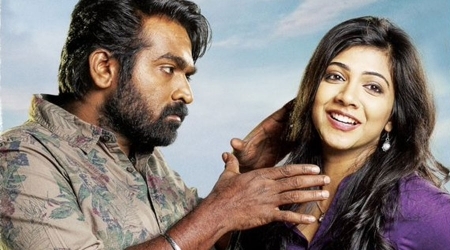 With more than a few choices at hand, I decided to bank on Nalan and Vijay Sethupathi to catch a glimpse of their new flick Kadhalum Kadanthu Pogum(kakapo) and was I disappointed ? I am not sure yet. Kakapo is basically the official remake of a South Korean film "My Dear Desperado. ". But it has everything a Tamil audience would like but not in the right quantities. A simple storyline where two people who are in the worst phases of their life share a bond is brought is what Nalan kumarasamy, the director says is an attempt to break away from stereotypical Tamil movies. Kakapo is an attempt by Nalan to show his audience that he can come up with stories which are not like "Soodhu Kavum" and it is safe to say that he has proved himself atleast a little bit, if not a lot.
Yazhini (Madonna Sebastian), an engineering graduate from Villupuram struggles to convince her parents to let her go to Chennai to work only to end up jobless and finds herself in the company of a local goon who's the neighbour of her post-unemployment simple apartment. Kathir (Vijay Sethupathi), the local goon's friend has just come out of jail after taking the blame for his mentor in return for the promise of his own new bar. But his mentor finds him incapable and gives him petty jobs to keep him away from his dream. Meanwhile Kathir and Yazhini become good friends and he helps her out when she is depressed after being rejected by many companies.
Samuthrakani is one big talent which is hardly made use of in the film. To be honest, there's no concrete storyline in kakapo. But one must definitely appreciate his way of taking the film. Be it cinematography or the dialogues, everything is fresh and nice. The scene where the heroine gets drunk with the hero and says "tamilnadu'la yaaruthaan engineer ila?" (Who isn't an engineer in Tamilnadu? Everyone is) is reality at its peak. Facts like every year more engineers are made with existing engineers still hunting for jobs and that great scholars can be found in even the most normal college are also well crafted. Desperation and survival of the fittest are some of the big topics which have been told in the simplest of ways in the film. I loved it when Vijay Sethupathi said "kurikol na apdithaan irukanum, puriya koodathu" (Goals should not be easily understood by others.) Simple lines with vast meaning were a huge plus point for the film. Cinematography by Dinesh Krishnan is worth mentioning- the rain scenes and the framing are all excellent. Santhosh Narayanan makes his mark; you know it's his work when the BGM starts - Kakakapo… and has already found its place on our playlist.
The two leads are one of the reasons to sit through the whole movie. Though Vijay Sethupathi has shown a repeated performance of taking up his usual carefree persona, he still manages to impress us and gets applauded on cue. And Madonna Sebastian, fondly "Red velvet Celine", has done an excellent job. She is a perfect choice and has done justice to her role, especially in the song where we see her transformation after reaching Chennai. She proves promising in many places. Its not really a love story though it's oftened declared so. It is an attempt to convery how when in crisis, we desperately crave for someone's company.
Rating: 3/5
Bottom-line: Watch if in desperate need of a movie or wait for a better movie the coming weekend.