Programming is like any other sport- you might know the rules, but you have to practice to be a pro.
Bavya
Bachelors in Computer Science Engineering at CEG, Anna University, Final year
Intern
Samsung R&D, Bengaluru

Interviewer: Pugazhendhi Saravanan M
Interviewee: Bavya
She has interned at Samsung R&D, Bangalore and shares with us her two-months of experience that she gained through this training program.
GT: Before we proceed with the actual interview, could you please tell us a few words about yourself.
BAVYA: I am a final year student, currently pursuing a CSE degree in CEG.I love to code. And I don't think it would be an exaggeration if I said that coding is my passion and hobby as well. Apart from that, I have a flair for writing in Tamil and would compose poems too. Also, I am a part of the Guindy Times.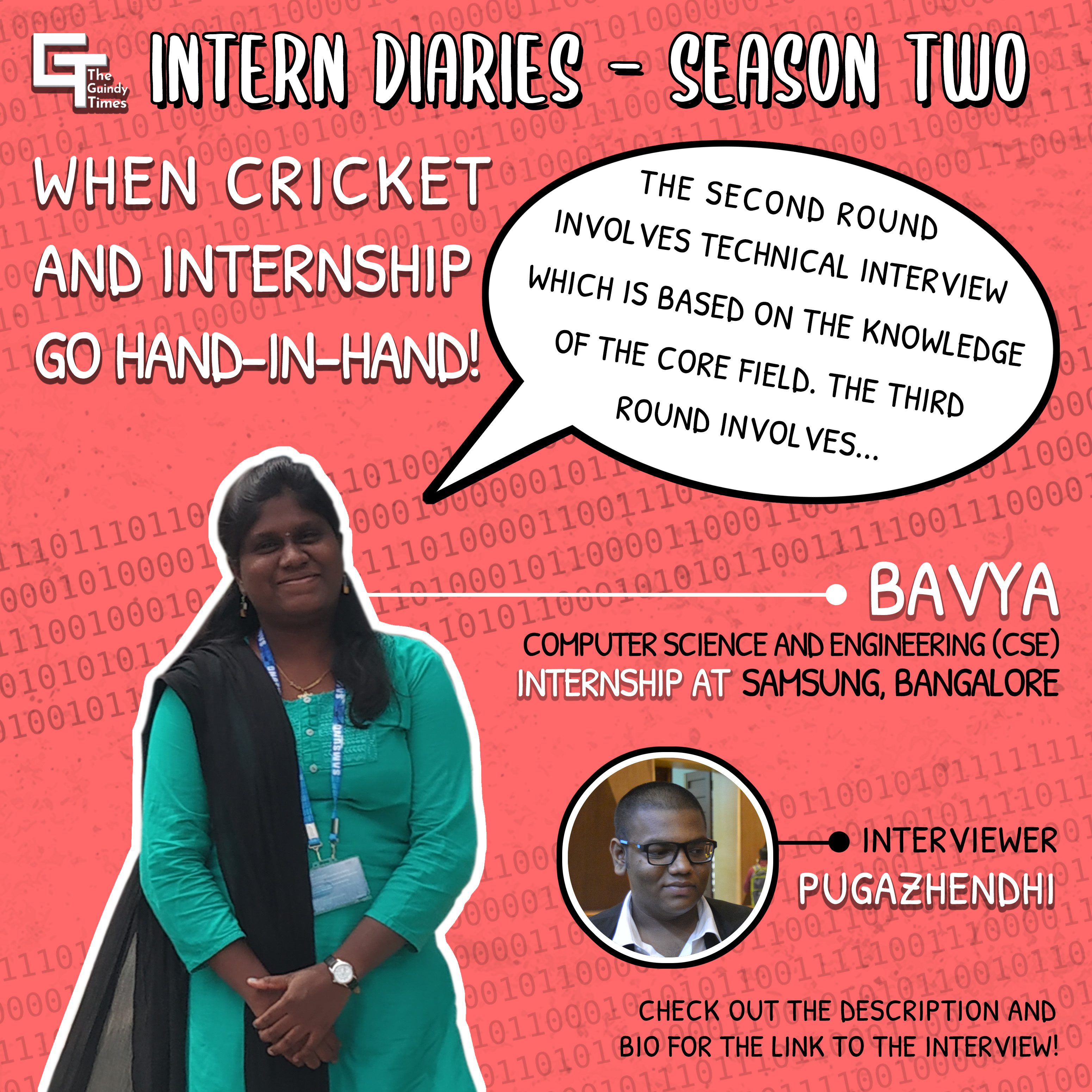 GT: How should one prepare for an internship in Samsung? What are their expectations?
BAVYA: Samsung is one of the many companies that arrive to recruit students from our campus, around the month of July or August. Also, they select a few candidates
for internship training. Data Structures and Algorithms are quintessential topics. So while preparing for this internship, it would be smart if a person is well-versed in these areas.
GT: Was there any particular reason for choosing Samsung? And what was the selection procedure like?
BAVYA: I would say I was chosen by them! I got lucky. The entire selection process involved three rounds. The first one was based on problem-solving which would test one's coding skills. The second round was a technical interview, where questions will be based on the knowledge that the candidate acquired in this field. The final round was an HR interview that would help evaluating their personality.
GT: Tell us about the work at Samsung, as an intern.
BAVYA: I was assigned a project titled Automating the testing of SSD (Solid-state drive)& quote. An SSD is a certain type of hard disk that is known for its high-speed
performance, as opposed to the normal hard drive which is being used by us, for the most part.

GT: What do you think were the highlights of this internship?
BAVYA: There were so many. Having been able to implement what was learnt throughout the coursework in a real-time application was a definite bonus. Working on a project, as opposed to theoretically studying, was certainly refreshing. Of course, receiving my own paycheck for the first time was an exhilarating experience! The cherry on the top, I would say, was the Bengaluru weather.
GT: Walk us through a day in your life as an intern.
BAVYA: I wouldn't say there was an excess of workload. We spent 6 hours at the office every day, researching about our projects. The work environment was stress-
free; we were not pressurized at any point.

GT: Were the accommodation and food provided by the company?
BAVYA: We were given accommodation for a week. And we managed to get ourselves food every day at an affordable price there. For the rate they charged from us, we were provided either with a breakfast-lunch or lunch-snacks combo.

GT: Do you think you might continue to be in this field after graduation?
BAVYA: In my opinion, I will definitely continue with this field, but only if I receive the job offer. There is a test that one must pass in order to get recruited there.

GT: Would you like to share with us any interesting incidents from your internship?
BAVYA: We were allowed to call our seniors by their names, which really fascinated me. Moreover, we could be seen taking sides and debating on Hindi and Tamil languages, amidst all the work, that was another interesting aspect. The absolute highlight, however, was, my childhood dreams of playing cricket finally came true, thanks to my team!

The Guindy Times thanks Bavya for her time and patience, and wishes her all the very best for her future endeavours.