Thenuga Priyadarshini
Bachelors in Computer Science Engineering at CEG, Anna University, Final year
Intern
Fidelity Investments (Chennai), an American based multinational Financial corporation.
Interviewer: Rohith
Interviewee: Thenuga Priyadarshini
GT: When is the perfect time to start applying for an internship?
Thenuga: Most probably during the end of 3rd year, i.e., during the 6th semester.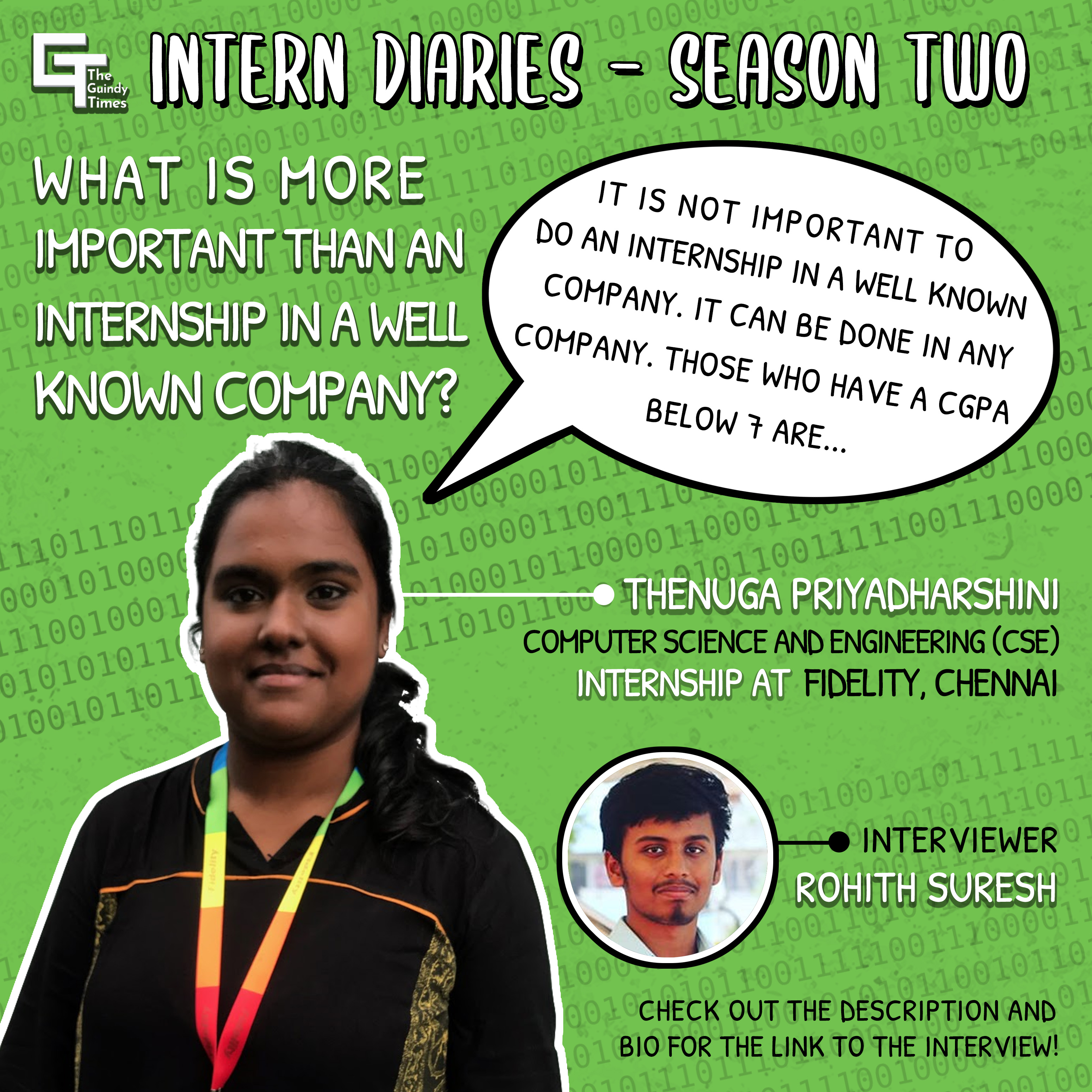 GT: Tell us about the selection process.
Thenuga: In our campus, the Centre for University-Industry Collaboration (CUIC) arranges campus placements and internships every year for the students. You can get in touch with a CUIC representative who will give you the forms specific to the companies you wish to intern in. Once you fill these forms, you will be called for the first round- coding, after which you may be shortlisted.
GT: Could you give some pointers for resume-writing as our calculated efforts for a striking resume sometimes result in mere excess of unsought information?
Thenuga: Since your resume is to be taken to the interview, it must be short and crisp. It should not exceed beyond one page. Ensure that you only include the most significant projects that you have done, so that you may recall them if the interviewer asks you for some explanation. You should keep in mind that interviewers do not know anything about you, and their only source of information will be that one piece of paper. The idea is to make your resume as concise as possible, enabling them to understand your entire background through a single glance.
GT: How do you search for companies that offer internships, especially in your desired domain? Does college academic record play a major role in the selection of an intern in a particular company?
Thenuga: It is a little difficult to choose your desired company. For the most part, it depends on your CGPA. Hence, you may try for a company based on the points you have acquired. And it is not essential that you intern at a very well-known company. An internship may be done anywhere, as it only adds value and experience! Placements are the next step, where you have to be more careful. Once you have been selected by a company, you aren't eligible to apply for other companies.
GT: What drew you towards Fidelity?
Thenuga: Since my domain (Computer Science) deals with topology and security, I felt that whatever I've learned so far would be useful in a financial services company, rather than a product-based company. I would be able to implement the knowledge I've gained in the past few years in real world applications. Based on this thought process, I narrowed down the companies to around 5-6, and Fidelity was one of my top choices.
GT: Walk us through your two-month internship experience.
Thenuga: One of the most daunting aspects of this internship was that I was going in blind. While a product-based company is typically a public platform, where the services offered are open to the public, such is not the case with Fidelity. Upon joining, my fears were unfounded. In the first two weeks, I was taught about a completely different world- the financial industry- and all my doubts about the work environment and various functionalities were cleared. There was an unprecedented amount of learning experience throughout the internship! One of the best parts about being an intern here is that you get an all-round experience, from learning about different kinds of technology to finetuning life skills, such as confidence, patience, or the ability to stand up for yourself. The workload was challenging but very rewarding.
With regards to accommodation, Fidelity does offer two-week accommodation at a five-star hotel, after which you must find your own accommodation. Living in Chennai, I did not require it. They also provide food at their own cafeteria every day, at all mealtimes.
GT: What were the challenges you faced during your internship?
Thenuga: Understanding the project itself seemed tough for me at first, this being my first internship. Fidelity is a financial company, and initially, I could not understand why we were working on a particular project. It took me around 2-3 weeks to actually understand the project and its necessity. The slow learning curve made me feel like I was lagging behind, but I found comfort in the fact that my friend also felt the same way!
GT: Would you recommend this company to other students?
Thenuga: Absolutely. You are exactly where you deserve to be. At some point in time, you will find yourself at the place where you really want to be. In terms of preparation, you need to make sure you are ready to face any kind of interview because that is what makes the most impact. Simultaneously, you can start preparing for the coding round by brushing up on common areas such as data structures, algorithms, etc. Make sure your fundamentals are strong. In this way, you will find it easy to crack the selection rounds.
GT: Finally, what do you think about Intern Diaries?
Thenuga: First of all, it was exciting and fun for me to give an interview like this since it was the first of its kind for me. Intern Diaries is an amazing platform where students will definitely be benefitted by going through each and every article. All the student interviewers have been doing a great job in this segment.
The Guindy Times thanks Thenuga for her time and wishes her all the best for her future endeavours.