Hard work always pays you off!
Divya Harini
Bachelors in Information Science and Technology, Final year, College of Engineering Guindy
Intern
Morgan Stanley, Banglore
Interviewer: Pradhakshya
Interviewee: Divya Harini
To give a better insight into internships, we have Divya who bagged a prestigious internship at the world-renowned American multinational investment bank and financial services company, Morgan Stanley.

GT: Tell me about yourself and your interests.
Divya: I'm Divya Harini from the IT dept, and I'll be entering my final year in July. I've always been interested in so many different things, like singing, reading fiction and even listening to songs. Academically, I'm more inclined to logical subjects than theoretical ones, which is
why I love coding.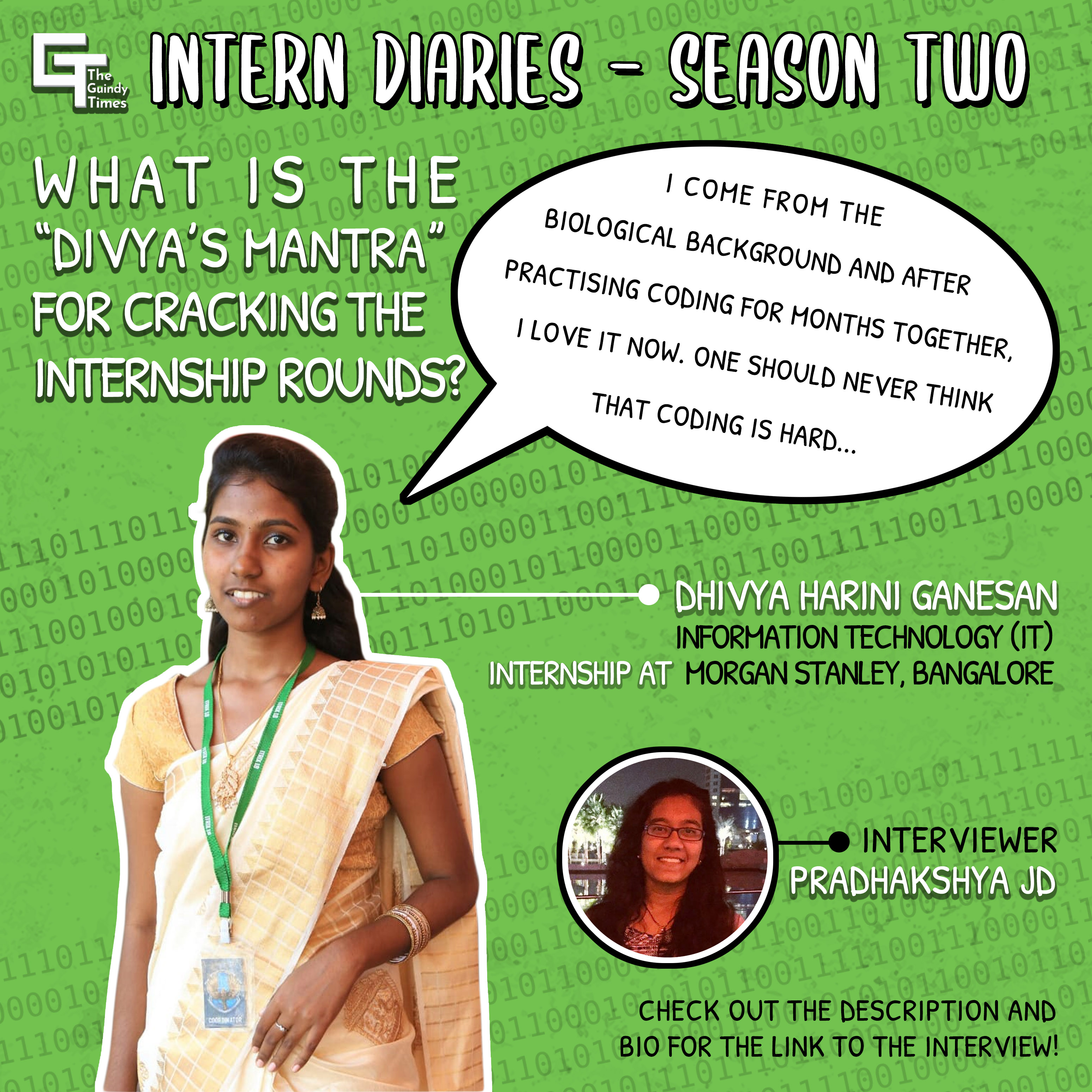 GT: How and when did you start preparing for internships?
Divya: That started around the month of August during my third year. But ideally, I suggest preparing during the holidays after the second year. That'll actually help a lot. I concentrated a lot improving my coding skills. Not everyone strikes gold on their first attempt. I was rejected
by a few companies, which in turn made me assess myself and improve my weaknesses.

GT: Was CGPA was taken into consideration during the intern interviews?
Divya: Not much but a decent CGPA above 7 or 8 is expected by most of the companies. There are just a few companies which look for just for 9 pointers and also a few who don't allow backlogs. Otherwise, I don't think CGPA should be much of a worry in terms of attending various internship screenings.
GT: Tell me about the working environment at Morgan Stanley and the experience you had there.
Divya: Morgan Stanley was great and I found it really motivating. I got to meet so many new people and really hit it off with them. I walked into the company with 3 of my friends but left with so many more. The environment is absolutely encouraging. Everyone from my mentors, higher officials to my teammates, got along really well, which helped me share my ideas without any kind of hesitation.

GT: What are the difficulties/ challenges you faced there?
Divya: Nothing worth mentioning actually. Most of my teammates spoke in Hindi, which I didn't understand. But other than that, it wasn't really too challenging. I just ended up communicating with everybody in English. Also, I was taught everything about the work there
right from the basics, which really helped me understand the company, its goals and their culture completely.

GT: Is the college syllabus/teaching at par with the vocational environment out there?
Divya: (laughing) Absolutely not. The work field is completely different from college syllabus. That's something I really liked about work. The field out there is so new and interesting, that it actually drove me to work and push my limits in terms of learning new concepts.

GT: How important and beneficial is such internships for engineering students?
Divya: According to me, internships are the best way to find yourself and your interests. You get to know the work environment only through such internships. It ultimately is a really good way through which one can learn a lot especially about the current trends in their respective fields. It is also worth mentioning that, the stipends these companies provide are definitely a huge motivation!

GT: What's 'Divya's Mantra' for cracking the internship rounds?
Divya: Nothing in particular, but yes, polishing and working on your coding helps a lot. One should never think coding is hard. I was from a biology stream when I entered college, but I found coding really interesting and practised it for several months that led me to fall in love it. So, keep practising, do not hesitate to ask your seniors for help and work to your full potential. Most importantly, remember coding is not something that you'll pick up in a day or two, it takes several weeks of practice and dedication.

GT: What's your opinion on the corporate world? What are your future plans- work or post-graduation?
Divya: I feel the corporate world is a great place to learn and grow. It gives the best of resources to help us find and improve our strengths and weaknesses. In regards to my future, I would like to work after graduating next year. Mainly, because I want to explore and find my specific field of interest and passion, so I can pursue higher studies along those lines.

The Guindy Times thanks Divya Harini for her time and wishes her all the best for her future endeavours.