"An abroad internship is always worth the experience," says Roopesh
Rooppesh Sarankapani
Bachelors in Computer Science and Engineering, Final year, College of Engineering Guindy
Intern
King Abdullah University of Science and Technology (KAUST), Saudi Arabia
Interviewer: Neelesh Karthikeyan (GT)
Interviewee: Rooppesh Sarankapani
GT: Can you brief us in layman's terms about your internship in KAUST?
Roopesh: I was working at the 'Clean combustion research centre' there. The work assigned to me can be divided into two parts. Basically, I would be provided with a datasheet comprising of various chemical reactions and some of their associated chemical properties and I had to predict the other properties associated with them as well. It was primarily accomplished by developing neural networks and some machine learning algorithms, which I did and the other task at the hand was to incorporate this research on the open-source software.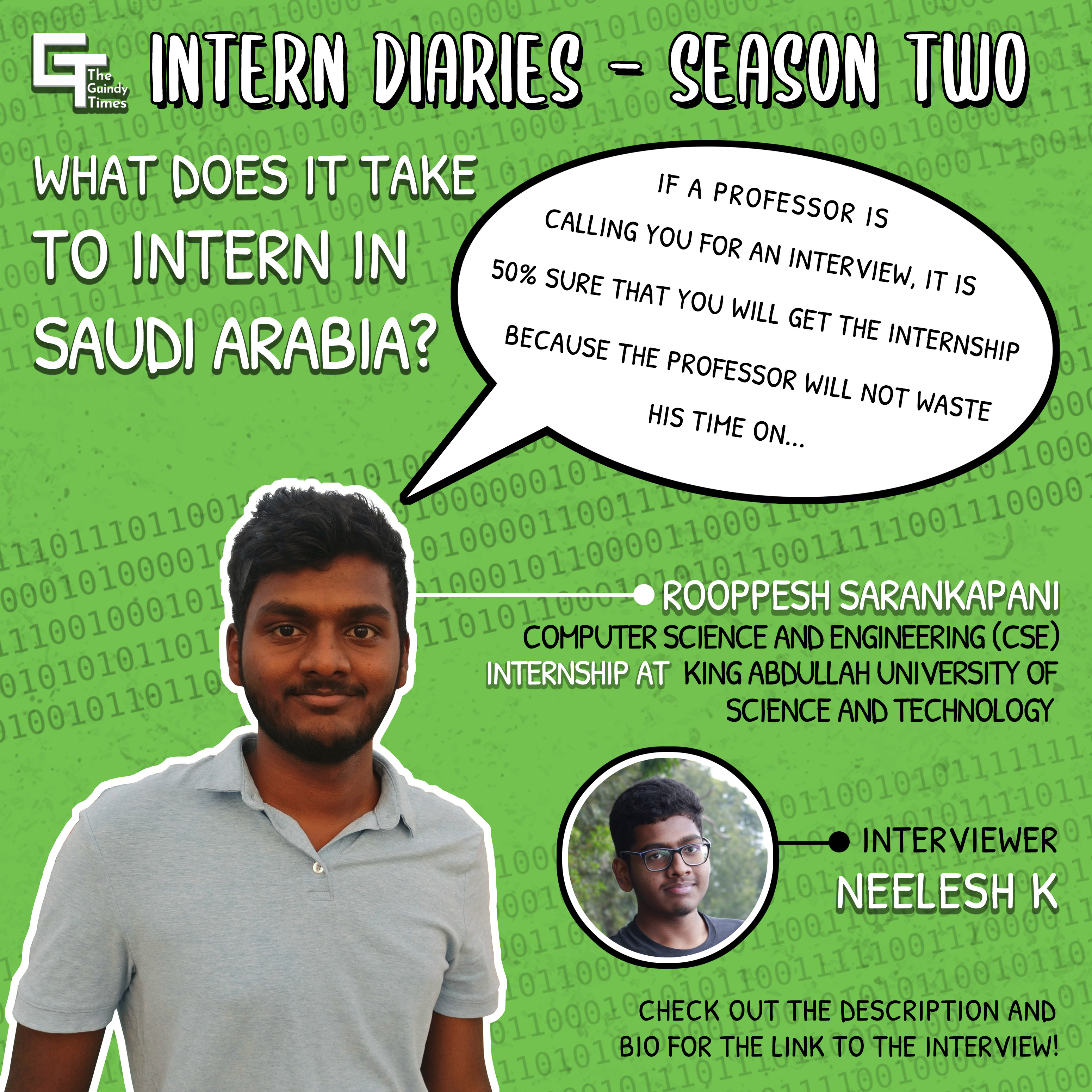 GT: What according to you is the best time to start applying for internships? And how did you find this one?
Roopesh: Many of the internship programs abroad open up by October. So I would say the best time to start applying for internships is by the end of September. The universities would also post about their internships and research programs in the official website. So keep checking it regularly.
GT: How difficult it would be to avail visa and get other paper works done while you decide to do an internship abroad? And if we have to get an LoR, whom can we approach?
Roopesh: It was pretty easy for me as I already have a permanent resident card. In general, the visa process will take time but it will be easy once the professor accepts your application.
I didn't have to get an LoR for this internship. But in general, one can approach any of their respective department's professors, having many years of service and who knows him/her well.
GT: Will CGPA play a role for interning in overseas?
Roopesh: CGPA will play a crucial role and again that depends on the university as well. But applicants will be on the safer side if they have scored above 8.5.
GT: What are your suggestions for building a good resume?
Roopesh: Concentrate on projects of your interest and start building your resume from scratch. Make your resume precise and be genuine.
GT: Did you have any internship interview? If yes, what was your special mantra to ace the interview?
Roopesh: I had two Skype interviews. One was technical and other was non-technical. Be confident in your areas of interest. If you receive a call from the professor, there is a high probability that you will acquire the internship because the professor would have decided against interviewing you if he was not pleased with your resume.
GT: What are the challenges you faced during this internship and how did you tackle it?
Roopesh: I didn't face any technical challenges. But since I came to here during the month of Ramadan, managing to get myself breakfast had really been difficult as most of the shops were closed. There are some restrictions in Saudi Arabia and adapting to their culture was quite challenging.
GT: Would you still consider the experience worthy of the money spent, if the intern wasn't fortunate enough to avail a scholarship?
Roopesh: I would still consider that to be a great experience as one will not get an opportunity like that once he/she has completed their under graduation. Also, it depends on the individual, their personal interests and ambitions. But most of the research internships abroad come with a scholarship.
GT: Could you please summarize your overall internship experience by listing out the pros and cons? And will you recommend this university to your juniors?
Roopesh: KAUST is a research-oriented university with a good world ranking and definitely one among the best in the Middle East. People from around 200 countries are working and studying here. So there is a very high scope to learn a lot. But it won't be easy to adapt to the culture that is prevailing in Saudi Arabia. And I would recommend this university to my juniors.
GT: What do you think about this Intern Diaries series by The Guindy Times?
Roopesh: Basically in CEG we won't get much information about internships and research opportunities abroad. I honestly feel this is a very good initiative and will be really helpful for the juniors while they plan their internships.
The Guindy Times thanks Roopesh for spending his time for the interview. We wish him all the best for his future endeavours.