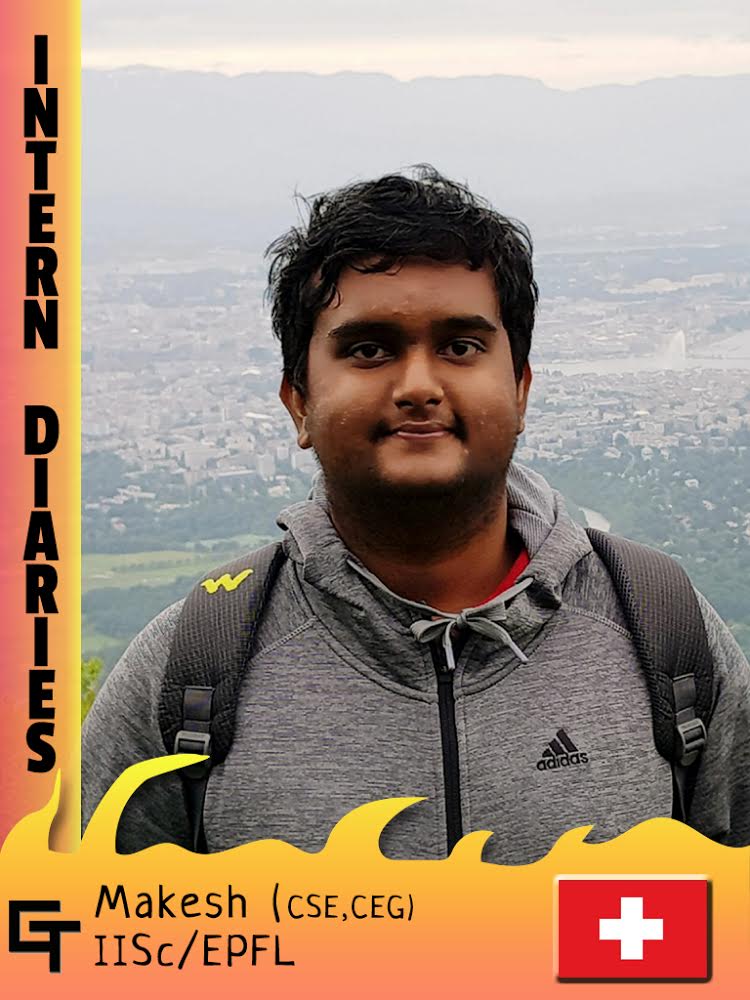 Intern Diaries is an initiative by The Guindy Times to share real-time experiences gained by the final year students of our college from internships to guide juniors. Here in this interview, Makesh, who is doing his final year in the Department of Computer Science, shares his experience on the same.
Interviewer: Saivarshini
Interviewee: Makesh
GT: What is your passion and how did CEG help you mould it?
MAKESH: I always wanted to do something with robotics and after coming to CEG, I started concentrating more on the software side of it, like artificial intelligence and machine learning.
GT: The acceptance rate of EPFL is only 8% around the world, how did you get through?
MAKESH: Without help from seniors it would've been impossible to get this internship. Earlier, this program was open only to the top IITs and NITs, but from the year 2012 it's open to all students from CSE, ECE and IT departments. With a high GPA and a well written SOP (Statement of purpose), one can achieve this easily.
GT: On what basis do they check your interest on the particular area you are applying to?
MAKESH: Prior research reflects your interest. In fact, all foreign internships require prior knowledge. I did my previous research internship at IISC Bangalore in natural language processing and it helped me learn how research internships work.
GT: What is your current project all about?
MAKESH: My current research focuses on the interaction between human and computers and ways to make it more interesting. Popular websites like edx and coursera are a part of this and they provide their dataset for this research.
GT: Is the EPFL program open for both industries and research institutes? What is the difference between them?
MAKESH: Yes, it is open for both. Once you get selected you can choose between both. However, the selection criteria remains the same. The workload maybe higher for industries as you will be working with startups.
GT: What is the best part about this internship?
MAKESH: People here are extremely nice and helpful. The professors are also friendly. There are no deadlines and even work from home is allowed! They also provide accommodation along with stipend.
GT: Mention some of the difficulties you faced during the internship.
MAKESH: The project I am working on is based on an area completely new to me and hence in the beginning required a steep learning curve. Also Switzerland is a French speaking territory and communication on a daily basis is quite difficult as not many locals speak English.
GT: What do you think about the Intern diaries initiative taken by GT?
MAKESH: I think it's a really good idea as many juniors can learn about internships and start preparing before it's too late. Not many students are aware of the EPFL program and I hope this sheds some light on it.
The Guindy Times wishes Makesh all the very best for his future research work and thank him for sharing his experience with us!