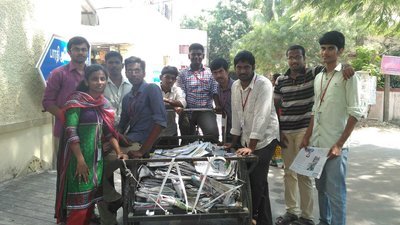 Charles bukowski's once said,
"They say nothing is wasted; either that or all is"
And this quote perfectly suits the event "Waste to money" organized by the Leo club of CEG. It is always said that students would like to enjoy during weekends but this was proved wrong by LEO club, when they showed that youngsters can forgo their weekend fun and our college students can even let go of the only Sunday they get for a good cause.
This is evident because this event was conducted on Jan 31st, a Sunday. The duration of this event was nearly 4 hours, from 9.00 A.M to 1.00 P.M. The prime motto of the event was to convert waste paper into money, to be used in useful way later. The members were actively involved in collecting waste papers from the residential areas, staff quarters and railways areas of Kottupuram. This event has been going on for quite some years now and comes out successful as expected every time. This time was no exception.
Eventually, the effort of the members converted totally 280 Kgs of collected waste paper into Rs. 2900. Money from this, along with the clothes kept undistributed during flood relief will be expected to be used for the betterment of orphanages in Chennai. During the activity the response from the people was also really appreciable. At the end of the event, refreshments were provided for the wonderful volunteers who carried the job with ease.
LEO club proves that co-ordination and team spirit along with good guidance will get the most successful impact in whatever we do. It is to be noted that this was same club of CEG which indulged itself in the flood relief activities with great zeal.
After this, LEO FEST held by 4-5 LEO clubs of Chennai is to be held on February 21st. On that note, there is a pre-event going on for all those aspiring designers in our college. "WEB FREAK" invites everyone to participate. So make sure you don't miss the opportunity to grab some awesome prizes. 25+ entries have already come in and more is invited. The winners will be awarded with Rs.500 and internship at Control+P - a start-up by our own alumnus.
Einstein's famous quote, "Energy can neither be created nor be destroyed, it can only be changed from one form to another", is so true and it's all in our hands to make sure we never lose any energy at all. Leo club of CEG is doing this right and we wish them all the best of luck to continue the good work.