'Choose a company that is in alignment with your goals as this experience is bound to help you in building your future!!'|Intern Diaries-Season 2|
Aishwarya PV
Bachelors in Computer Science and Engineering, Final year, College of Engineering Guindy
Intern
Accolite, Banglore
Interviewer: Guru Nivash(GT)
Interviewee: Aishwarya PV
GT: Why do you think an internship is essential for us?
Aishwarya Venkat: Internships help us to gain knowledge regarding the actual fieldwork. With rapid advancements in technology, it will be hard for us to keep pace with that merely through our curriculum. Internships help us in this trail by providing us with some hands-on experience. So I think they are essential.
GT: How should one equip his/herself, before applying for an internship?
Aishwarya Venkat: Be thorough with the basics and that will suffice to help you crack their coding rounds. Data structures also play a vital role. And your inherent problem-solving ability will also come handy. It would be in one's interest to work on these parameters.
GT: How did you come to know about this internship? And why did you choose it?
Aishwarya Venkat: I came to know about this internship in Accolite through the college. Our college offers internships that are guaranteed, provided the company in question belongs to your core line. Since it's your first experience at work, it is bound to help you in the future. On that note, I preferred Accolite.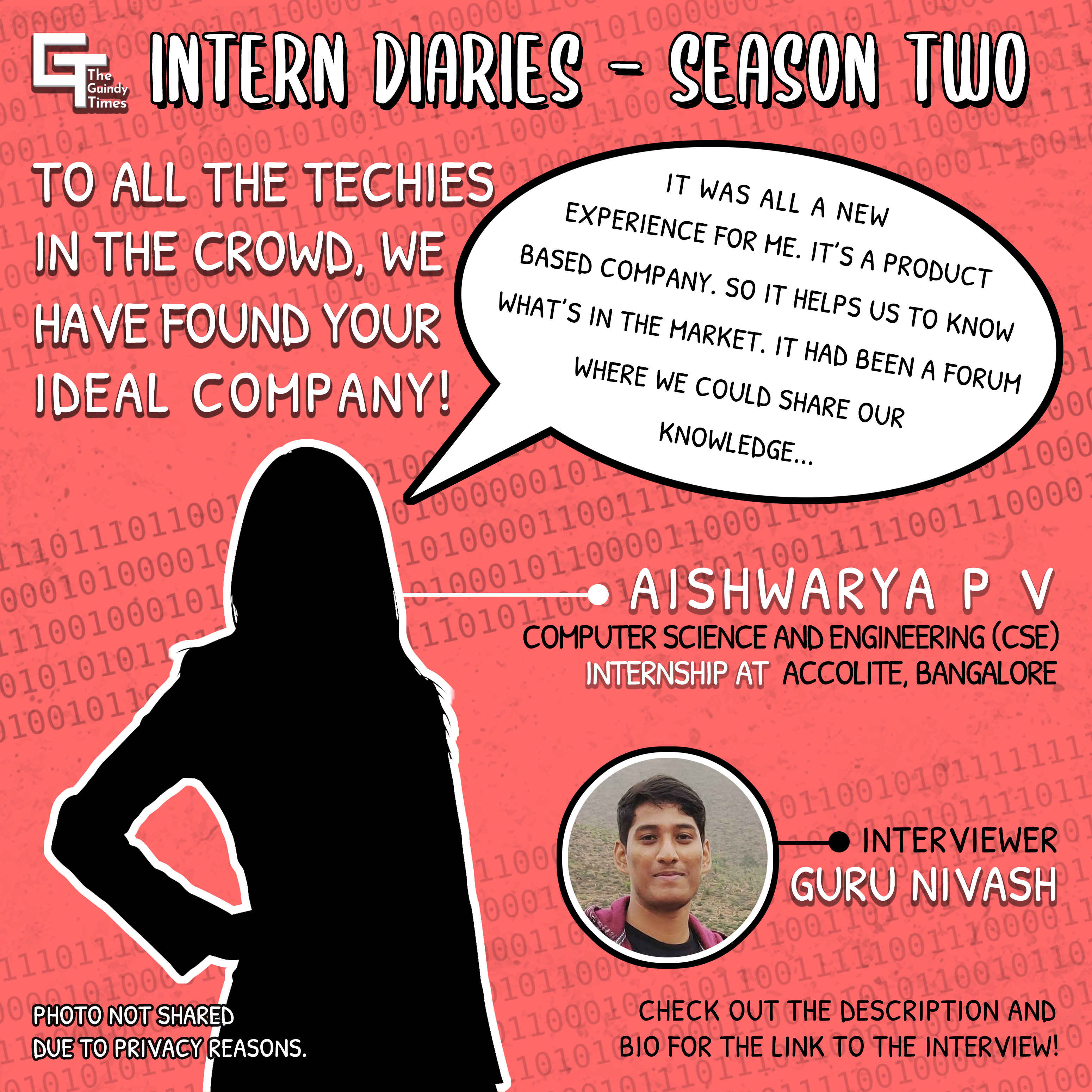 GT: What was the selection process in Accolite like?
Aishwarya Venkat: Similar to every other IT company, the first round involved questions from general aptitude and coding. The second and third rounds were purely technical, former being to build an algorithm to a problem given, while the latter was a face-to-face interview. The HR members would pose questions based on the projects completed. Your inherent problem-solving skills would also contribute significantly to the interview.
GT: How would you describe your internship at Accolite? And what are the challenges you faced during this term?
Aishwarya Venkat: Accolite is a service-based company. So it gave me an idea as what is there in the market and the experience was anew. I basically didn't find anything difficult as it remained a platform for me to share knowledge. My mentor was very helpful too, was never reluctant to clear my doubts despite having asked a number of times.
GT: Could you elaborate about the work timings and the projects that you were assigned there?
Aishwarya Venkat: Work timings were very flexible as long as it was ensured that the work had been done. I was part of the coding team, which was working on a model for FedEx over the past two months.
GT: What were your duties to be discharged as an intern to the company and how did you deal with it?
Aishwarya Venkat: it was very intense, with tasks being given to me on a weekly basis. My mentor suggested that it would be in my interest to complete the tasks well before my deadline & I strived very hard to complete them.
GT: Would you recommend the company that you interned to others and what are the reasons you would give for that?
Aishwarya Venkat: Definitely. It's a good company to intern at. The flexible work timings are the prime advantage. In addition to that, one could do other preparations that they are intended to do as well. Mentors at Accolite emphasize us to learn what we work at. It also happens to be an ideal spot for the techies.
GT: What would you suggest to young minds, internships at core companies or in their preferred domain?
Aishwarya Venkat: It is advisable to intern at core companies as it helps one to be aware of the basics of his/her domain. If you're passionate about some other field, you could also intern at the respective companies of the required domain. It will, in either case, add value to your resume.
GT: What do you think about GT's Intern Diaries?
Aishwarya Venkat: It's a great way to provide insight, especially to those who are clueless about obtaining internships. I think this is one strong feature of this initiative taken by GT.
The Guindy Times thanks Aishwarya Venkat, for spending her time and wishes her all the best in all her future endeavours.