The Gallery (or The Gala Gallery, as I like to call it) is the most happening place in CEG. From cake-cutting to watching our favourite stars on the big screen, it's the best place to be inside the 200 year old institution. Athletes doing push-ups, ten-pointers with books like 'A Textbook of Applied Electronics', lazy people like me occupying the Gallery only for its warm breeze – it's an assemblage of people, each one enjoying it in their own way.
The Gallery, officially named Annadurai Stadium, was open to the public on March 6, 1969 (Courtesy: The plaque every significant construction in college has that many of us don't bother to read). The Gallery is open to visitors everyday from 6 am to the time it becomes too dark for the sportsmen to play. The backside of the Gallery houses the college's gym where macho-men workout and take mirror selfies to post on social media. Table tennis and other indoor games like chess are also part of the gym.
The Gallery, by the way, is not just a place to sit and enjoy. I would say that it serves as the 'Birthplace of Thoughts' to many thinkers. Remember the robot-romance song Irumbile Oru Irudhayam from Endhiran? Those beautiful, sci-fi tinged words were penned down by our very own alumnus and lyricist Madhan Karky at the Gallery.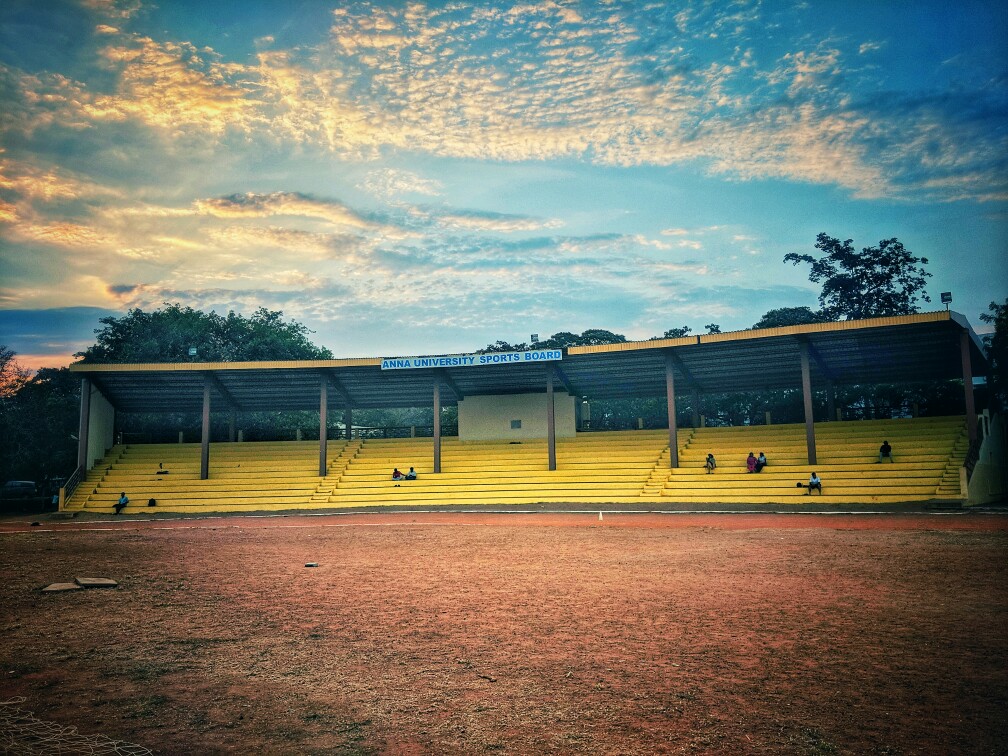 It is the stage of attraction for all the four day technical and cultural festivals of CEG – of course I mean Kurukshetra and Techofes. Students from other colleges also get to sit in the famous Gallery and witness zippy drones flying in the sky during those days. Signature events like Godspeed-- CEG's remote-controlled car race-- happen at the Gallery with loud music and fluorescent lighting. The Twisters crew always warm-up at the Gallery before starting their rigorous practice sessions. Most of the National Service Scheme units stage their post-camp meet-ups regularly at the Gallery, cementing their 'NSS daw! Family daw!' notion. Folks from CEG, ACT and SAP adorn the Gallery wearing vibrantly coloured T-Shirts during the NSO Camp that happens every year, not to mention the campfires!
Love proposals, break-up tears, ardent fans shouting out the names of their stars, toppers crying out "My CGPA is 10!" (I just cooked up the last one) – the Gallery has witnessed a mix of emotions, and in the process, created a lot of memories. I've had a lot of memorable moments at the Gallery too. I've laughed, cried (only once I swear), hung out with my friends, sat down tired after jogging (if you can call it that) and watched the sun set many times. It truly is the best place to be in CEG.