On Monday evening, 4.30 pm, the Tag Auditorium was abuzz with the elected Class Representatives and Club Presidents of CEG. Then walked in Dr. P. Narayanasamy, Dean (CEG), along with the CEG Student Advisor, Dr. S. Swamynathan. The hall fell to silence as the SA President Mr. Abishek Sekar quickly welcomed everyone and asked the Dean to address the gathering.
The Dean began with his recollection of the December floods, thanking class representatives for promptly relaying information given out by him to their classmates. Next, he spoke about ensuring that no student missed out on official circulars and scholarship notifications, and then asked if all classrooms were provided for in terms of bulletin boards, projectors and dustbins.
He further spoke about plans to convert a hall in the second floor of Knowledge Park to a dining room. He also mentioned that all classrooms and benches are cleaned every day after working hours, and expressed his disappointment in finding the ground littered with wastes in spite of dustbins being provided at every corner.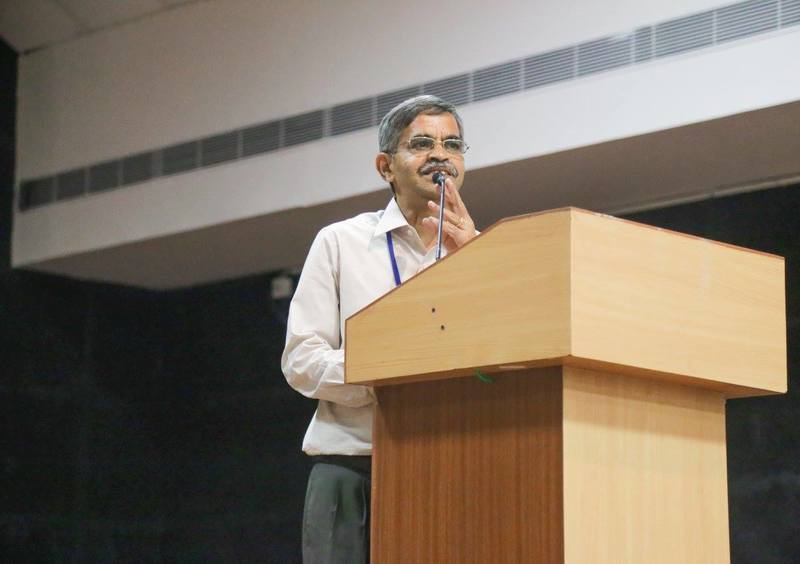 The Dean further emphasized that rules are enforced in campus for the benefit of the students - for instance, it is to protect our campus from intruders that all students are asked to wear their ID tags. He also pointed out that wearing an Anna University tag was a matter of pride, and that he himself wore his tag at all times, everywhere he went. He then divulged how all fines collected in campus are sent to the Siruthuligal Charity Club of CEG – a club well-known for providing financial assistance to students needing it the most.
He then urged students to take part in Kurukshetra and Techofes as participants and organisers. He recounted that in the previous edition of Kurukshetra, he himself took part in some workshops and found them beneficial to such an extent that he felt guilty about missing out on others due to previously-scheduled commitments. He concluded his talk by stressing that this was the reason that even classes are suspended from 10.30 onwards on these days.
Next, Dr. S. Swamynathan took the stage and he began by asking how many present knew about the Socially Relevant Inter-disciplinary projects going on in CTF and talked about its importance as a part of Kurukshetra. However, he warned the students to not get carried away by any activity and not miss classes as the college permits only five full or ten half days of OD in a semester. So, he asked, all students to be mindful. He went on to talk about the necessity of being in formals in the academic zone (SnH entrance, KP area, Depts, Red Building, etc). He then told those gathered that a rule has been put on effect that only three banners per symposium would be allowed, preferably, one at the main gate, another at the Kottur gate, and the last one in front of their respective dept./venue.
Swamynathan sir suggested the organisers to make use of the Digital Boards (Televisions) present in the campus, instead of printing many posters, to promote their events. He then brought up the fact that many clubs that do well in a particular year lose momentum the following year and advised the final years in every club to get their juniors ready to take over the mantle.
The rest of the evening was spent by the class representatives raising their concerns on behalf of the college students. Some of the issues discussed included WiFi connectivity, planting new seedlings in the campus, provision of basic first-aid at the Health Centre for longer hours, and to have a section in the library where one can bring in one's own books to read, to mention a few. The Dean and both the student advisors – Dr. Pradeep Kumar having joined the assembly a short while back– took turns in responding to all queries.
The evening was, as the title suggests, wrapped up with snacks and tea.
P.S: If any student faces any issue in college, one can immediately contact one's class representative. The Class Rep has access to instantly bring it to the notice of the college authorities. One may directly get in touch with the college authorities too.