Janani Alagarsamy
Bachelors in Electrical and Electronics Engineering,Fourth Year,College of Engineering Guindy
Intern
ABB Ltd,Chennai
Interviewer: Suwamiya. N (GT)
Interviewee: Janani Alagarsamy
GT: Tell us about your interests and hobbies.
Janani: I believe in being a part of projects that have direct impact on our society and I am very much interested about it.And as far as my hobbies go, I love travelling, tasting different varieties of cuisines and of course, dancing to my heart's content. The last one albeit comes along the territory of being a professional Bharatanatyam dancer.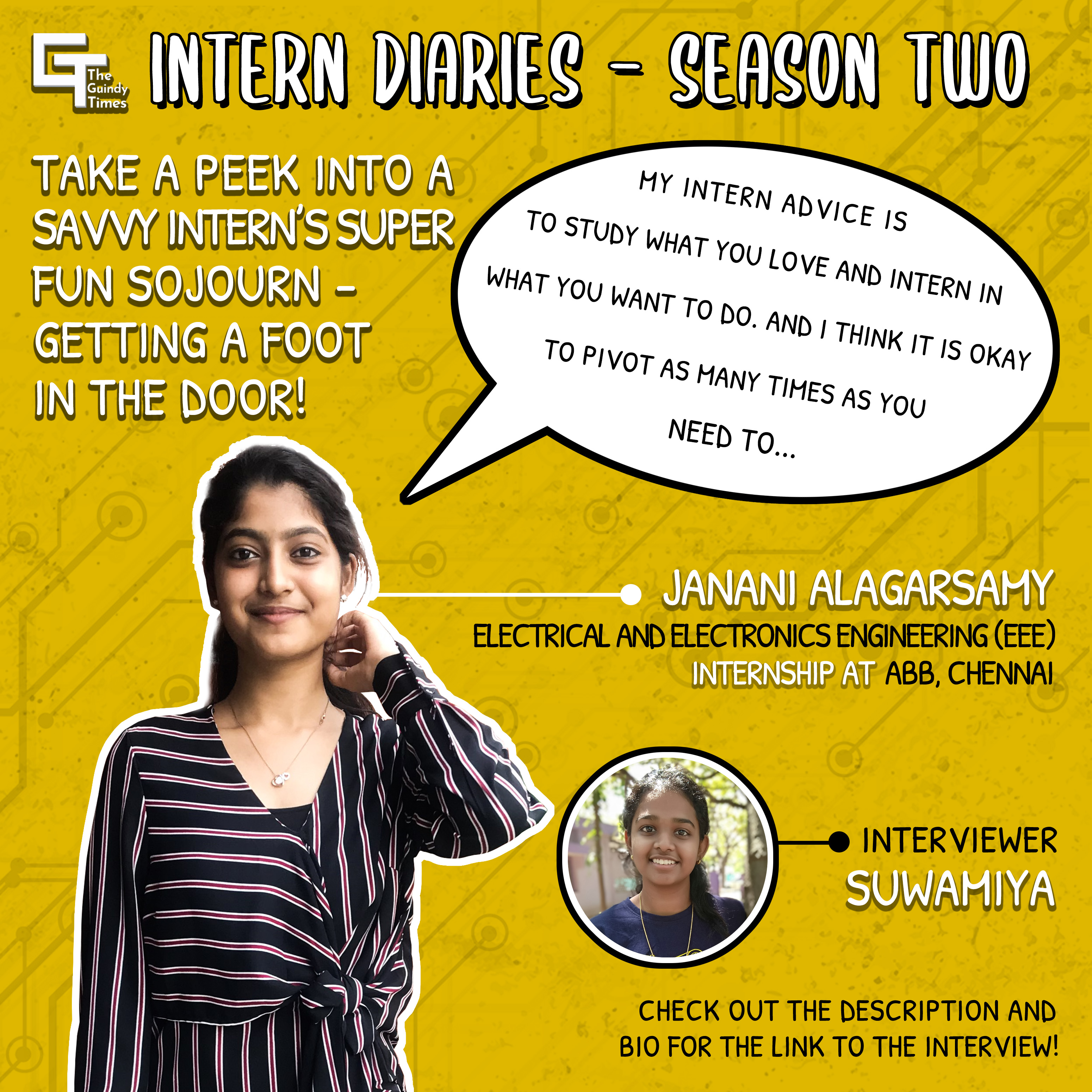 GT: What inspired you to settle on the corporate internship over the classic research one?
Janani: My decision of it, pretty much revolved around my intrigue towards corporate work ethic and life. Another significance with regard to my choice of corporate over research, relies on the fact that I wanted to integrate the knowledge I've obtained in the last 3 years onto a practical hands on experience whilst working on my hard & soft skills.
GT: What was the procedure to obtain an internship at ABB? And please do enlighten us about the selection criteria.
Janani: At ABB, they potentially look for Electrical and Electronics Engineers and conduct Aptitude tests and HR interviews to assess the student applicant, which is as vigorous as it would be for any employee. So, to secure this internship, I had to network with various individuals via LinkedIn / emails and personal contacts for about six months before my semester break, to be eligible for the employee referral option. I'd suggest that anyone interested in pursuing an internship with ABB to think ahead and plan accordingly. Be persuasive and smart to avoid any last-minute disappointments.
GT: Do you think having a prior internship/project experience would ease one into the role of a corporate intern?
Janani: Well, not necessarily. Usually students go for core internships, their first and second year of engineering, and they're purely fundamental. Third year however, is application oriented and is the perfect time to understand and excel in your chosen field or domain.
GT: Since CEG is big on 'Senior support' & 'Alumni power', how much did your seniors help with your internship?
Janani: They were indeed extremely supportive. Talking to seniors helped broaden my horizons on the whole ordeal. I'm really grateful to Subash Chander, my senior who took the time & effort to introduce me to new opportunities at the right time.And of course, the Best thing about the Alumni Network is that they're always there to help us in every way possible and a simple introduction as a CEGian would do the trick.
GT: How was your preparation academic & aptitude wise? And what was the HR interview like?
Janani: Luckily my Aptitude Test and HR Interview were scheduled right after the semester exams, so it helped me with the written paper. However, there were other questions that tested my fundamentals from second year, so brushing up on the concepts in advance helps. The HR interview was conversational with its main purpose being to evaluate as to which team /department I would best fit into, depending on my communication skills, future aspirations and confidence. My suggestion to all prospective interns would be to do your in depth research on the company and prepare accordingly rather than learning everything that you think is important. This will show your commitment and interest in pursuing an internship with the Company.
GT: How competitive the selection process was and what were the key parameters the selection board was looking at? Which quality of yours helped crack the selection process?
Janani: As mentioned above, ABB's internship methodology, doesn't have any formal recruitment process. Hence, I believe their selection process is based on evaluating the ability of the interns to learn and their keen interest with the field.
GT: Tell us about the team you were working with and also about the project you were carrying out in this internship.
Janani: I was interning with the Power Grid High Voltage team, where I specifically worked on Integrated GIS Applications (IGA) projects,it was interesting to see the practical uses of theories I studied in college.
GT: Its common to have regrets in life sometimes, for instance take the field of academics, do you feel that if you concentrated better on it, you would have found yourself in a better position?
Janani: No. I have zero regrets. My project field was already new. I was either way interested in this specific field & thus didn't mind putting in extra effort to learn about it in detail.Though I guess it's common to feel like we should have done better, I think it's important we trust ourselves to believe we have done our best. Besides the purpose of the internship is to serve as practical knowledge, theory can count only so much in the real world.
GT: How much does this internship help your career? What changes has this internship brought in your intellectual capabilities?
Janani: This internship helped me assess myself on how I would react working 40 hours a week, which was a different experience in itself. I now understand the requirements of a job candidate, my basics are stronger, and I've also learnt to work effectively and efficiently giving me an edge over the others.
GT: Would you recommend ABB for internships to your juniors?
Janani: Yes definitely! I had a great experience. The employees were respectful and understanding. ABB has a number of diverse employees that has helped instil a culture of teaching and helping each other, from which I benefited from during the course of my internship. A student interning here is bound to get new perspective on how the corporate world works before stepping into one.
GT: Conclusively, Could you please share a few words of advice to your juniors with regard to your internship experience?
Janani: A lot of students lose self-confidence over time due to their GPA and backlogs, and don't even give opportunities in front of them a shot. Every junior enquires about the CGPA requirements and eligibility criteria in almost every Intern Diaries post, I want to convey that, your CGPA acts only as an entry to your Job/internship, but after that it's what is in you that will help you grow in life financially and emotionally.If you have a low CGPA, make sure you build your resume with many projects, internships and unique co curriculars. If you have a decent CGPA, research about the opportunities that only you can make use of and work towards it.
The Guindy Times thanks you for spending your time and wishes you to reach glorious heights in your life!