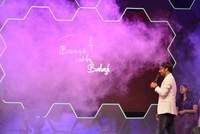 This Valentine's day, anyone at CEG grounds would have forgotten about proposals made and rejections received, thanks to the Pro Show that night, the last night of Techofes '15 and the best!
I must say that the night would be very memorable for all those who attended RJ Balaji's " Boost with Balaji". Techofes' signature event ( Techofes got talent ), which has almost become a tradition now, was one epic event.
My personal favorite out of the four nights (Yes! I attended all four pro shows without fail thanks to my set of sincere friends) was Night-4! Power Star's guest appearance, the crew of Ivanukku Thannila Gandam releasing the teaser, the Gana Bala show and Boost with Balaji all packed into one night.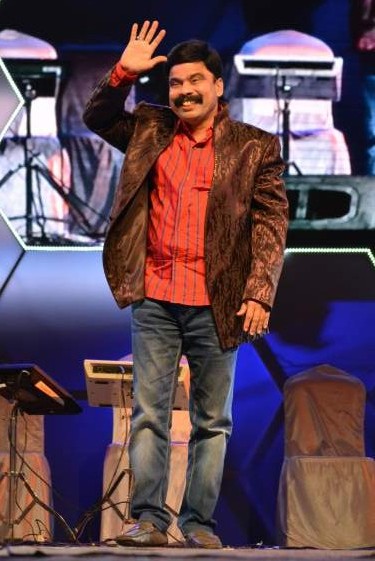 Power Star got the crowd roaring and cheering. He made statements like "I have Crores of fans in Tamil Nadu" and danced for the song Ladio from Shankar's I, a very rare sight which I'm sure made everyone present there be proud of being able to witness it live. Then the cast of the movie with a very interesting title 'Ivanukku Thannila Gandam' released the movie's teaser. Followed by this brief event, was the most awaited event of the evening 'Bala Gala'!
Featuring Gana Bala, "Soup Concert" the first time Gana event in the college was a huge success. Except for a few shy and reserved people everyone was on their feet dancing their hearts out. The Kuthu Arena, as they called it, was brimming with life. The singer sang famous songs like 'What a Karuvad' from VIP, 'Hey baby' from Raja Rani and upon request the latest song 'Adharu Adharu' from Yennai Arindhaal which drove the crowd mad. The crowd literally pattaya kelapitanga with their dance on the ground that there was a Tyndall-like effect formed with the dust and stage lights. Though it choked many people, the atmosphere was exciting!
I'm surprised that I didn't pass out laughing because of the Boost with Balaji show. The show had four rounds with 8 selected participants ( 4 girls and 4 boys ) playing. The rounds included showcasing individual talents, debate on which gender is most depressed after love failures (the male gender won), imitating dance shown on the video clip and finally, acting out a dialogue. Everyone almost literally fell out of their seats laughing so hard.
Even though he had to rush a bit with the show due to time limitations RJ Balaji didn't miss a single opportunity to pass hilarious, timely comments on the participants. There was not a moment during the show when one could say it was boring.
Laughter is the best medicine, at the end of the day everyone went home with a healthy smile and a happy heart.