CEG GNU/Linux Users Group (CEGLUG) in collaboration with the Free Software Foundation, Tamil Nadu (FSFTN), celebrated Software Freedom Day at Ada Lovelace Auditorium in CEG on 16th September 2017.
Software Freedom Day was celebrated globally on 16th September to extol Free Software. Software Freedom Day is a public initiative to increase awareness about the virtues of Free Software and to encourage its use. Free Software doesn't mean it's Free of Cost; it means Freedom. It offers one the freedom to view and modify your software, distribute the modified software and use it for other purposes apart from the ones mentioned.
The Software Freedom Day celebrations in our college saw invigorating sessions and enticing stall exhibits. The day started with a talk on "Fossonomics" by our college alumnus Senthil, where he expounded on the economics of using free software, following which Krupakaran, a PhD scholar in the Computer Science department spoke on "Awk command in Linux". He explained in detail on how a single command in Terminal with GNU Utilities can replace significantly large programs to perform simple and common tasks. This was followed by an interesting session on "Docker" by our alumnus Salim who showed a demo on its varied use and applications.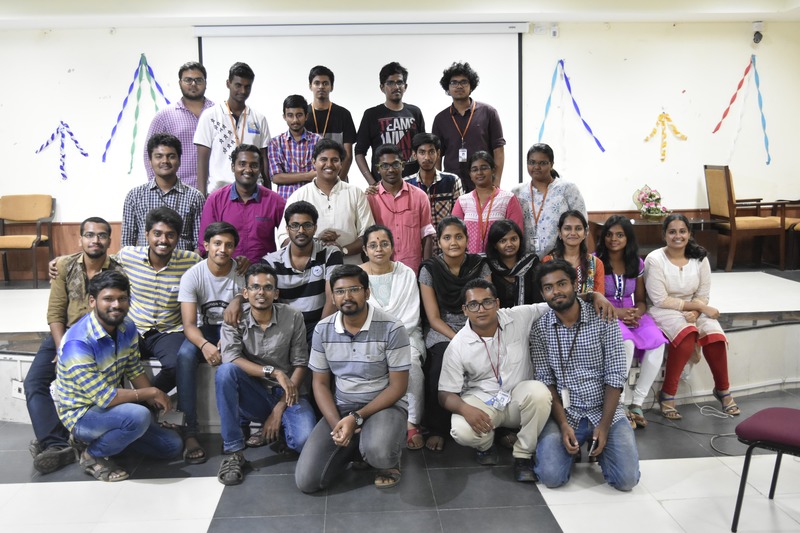 The next session was on "Networking in Linux" by Kalyan, an alumnus from the 2012 Batch. He elaborated on the supremacy of Linux in establishing servers and had the audience engrossed with his vast knowledge on how to create a fake IP address and an ad-blocker among many other interesting topics.
Later, Venkatesh from FSFTN started a discussion on the virtues of Free Software and why we celebrate Software Freedom Day. Faizaan, an alumnus of our college followed this discussion with a talk on "Why JavaScript?" He elucidated on why everyone should learn JavaScript and also created a Compiler Application during this session.
Several stalls were showcased following the talks among which were exhibits on Open Source libraries for Data Analysis, Hadoop, Audacity, and Wine among many others. Everyone including the onlookers and participants enjoyed the exhibition which helped enhance one's knowledge on the applications of software and also helped identify the developer in one.
The day emphasized on the use of Free Software and unfolded the various advantages associated with using them to the student society who mark the future of the coming generations.
As people who value freedom above all else, let us practice the use of Free Software and unbind ourselves from the chains of Software subjugation.