If you are a resident of Chennai, you've probably heard of Sangarsh, an annual musical concert conducted by the Rotaract Club of CEG. However, it is not just a musical concert - it is also a fundraiser to help the under-privileged sections of the society. The evening of March 9th saw a turnout of more than 1500 people at the Music Academy for the 16th edition of Sangarsh. This year's event was organized to aid children suffering from cerebral palsy. The performers included playback singers Syed Subhaan, V V Prasanna, Nikhil Mathew, Malavika Sundar, Soundharya Nandhakumar and a few others. They were also accompanied by Manoj and the band, who put on an enthralling performance which had everyone grooving.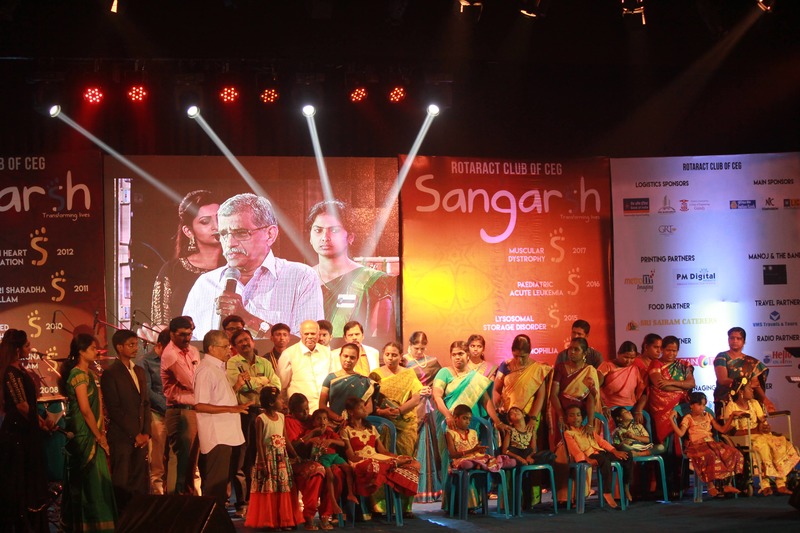 While the performers ensured that the auditorium was filled with energy and vigor, the real stars of Sangarsh' 18 were the children for whom the concert was conducted. The proceedings from Sangarsh' 18 were donated to the JK Mass Foundation in Madurai, a home for children affected by cerebral palsy. Cerebral palsy is a terminal disease with no absolute cure and requires a lifetime of continuous physiotherapy.
As a Rotaractor myself, I was very excited to witness the results of my hard work for Sangarsh. My heart leapt when the differently abled children were brought on stage and this was one of the happiest moments in my life. The knowledge that you've made someone else's life better is really out of this world. My eyes were brimming with tears of joy.
Like previous editions, the 16th edition of Sangarsh was a grand success. I hope that this tradition continues and a lot more people are benefitted through future editions of Sangarsh.