At a glance:
| | |
| --- | --- |
| AUTHOR | Hari Prasath |
| LANGUAGE | English |
| MEDIA TYPE | Print (Paperback) |
| COUNTRY | India |
| ISBN | 9781946390363 |
| PRICE | Rs. 250 |
| PAGES | 202 |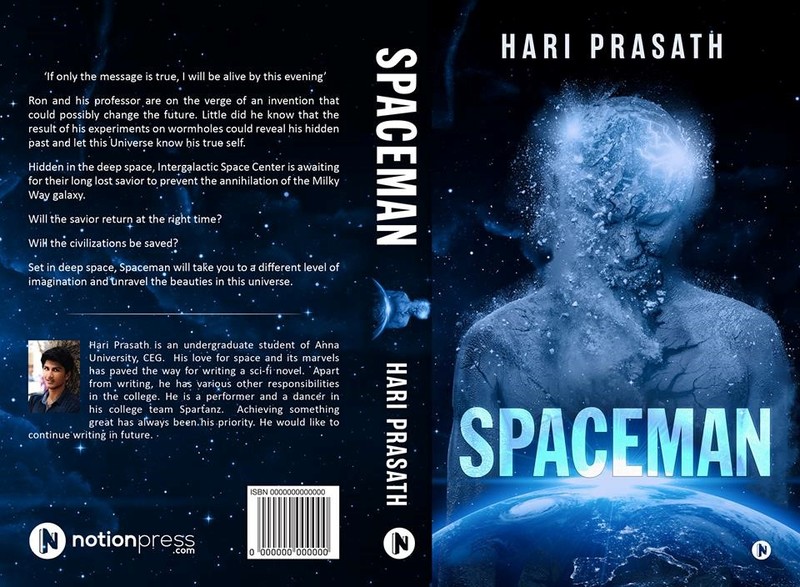 This isn't one of those garden-variety science fiction novels which overwhelms the reader right from the get-go. A succinct but well defined plot makes this book a real page-turner. With a variety of characters, ranging from the geeky protagonist Ron to the mysterious Ahima, the book touches upon the elements of romance and human faith, maintaining a steady balance between the fast-paced plot and the occasional lighter moment. Author Hari Prasath deserves credit for his clever pacing. With a slow, expository start, the plot evolves into a gripping countdown, keeping the reader fully engrossed.
While there are a variety of characters, some, Riya (Ron's love interest) for instance, are poorly developed. While her presence is felt throughout, it is difficult to gauge the exact impact Riya plays on the story. Others, like Ashley (the third member of the Ron-Riya love triangle) also feel unnecessary. One of the story's pivotal parts, where Ron's dormant powers come into force with the help of a powerful warrior Kare, lacked the brevity needed and dragged tediously at one point of time, though it is probably unavoidable.
"A good book is something which makes you search for mistakes."
Spaceman is one of those books.
BOTTOMLINE:
Spaceman is one of those books which transports you to an alternate reality, where you experience every sentiment and every action just as how the characters in the book do. With its intricate plot and gripping pace, the book is one of those which leaves you feeling 'incomplete' once you're done reading it.
VERDICT:
Buy it!
RATING:
4.5/5
FROM THE AUTHOR (Hari Prasath):
I have been fascinated by space and the idea of interdimensional travel right from a very young age. I wanted to go above and beyond in realizing my fascination towards space. This book is a constructive outcome of my sleepless nights researching untold facts about space and science fiction in general. I hope readers enjoy my book just as how I did while writing it.
The reviewer has read the author's copy of the book.