Warning : Spoiler Alert !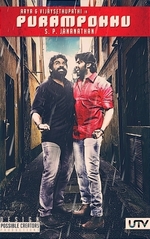 S. P. Jhananathan of Peraanmai fame returns with his trademark communist and capitalist concepts in 'Purambokku Engira Podhuvudaimai', starring the triumvirate Arya, Shyam and Vijay Sethupathi in the lead. However, these theories take the back seat in a diluted fashion as the film tries to capture the thought process and psychological sufferings of a hangman. While the overall theme looks great in paper, compounding it with too many storylines into a single package makes this look a bit clumsy.
Arya (Balu) plays the leader of an Iyakkam (movement) that resembles clearly the Naxals and Maoists. While his appearance has been taken care of so that he looks typically like the one ready to do anything for a cause, his body language doesn't provide the image of a leader. Instead, he looks like a lower rank cadet, who performs the orders of his superiors, contrary to his role as one of the top notch leaders of the movement.
Shyam (Macaulay) comes in as the Additional Director General of Police and plays a fairly good job. He has adapted to his role by modifying his physique accordingly. His body language shows the boasting arrogance and pride of a higher rung police officer but he seems to recite the dialogues, as if speaking in an interschool competition (or, the dubbing has been so bad). Since he is the senior among the three lead actors, he has been given the character of sheer dominance.
Vijay Sethupathi (Yamalingam) comes in as the hangman and he is the only one in the total cast that has perfected his role efficiently. His character is the one with prominence and he maneuvers it with the genius of a veteran. Be it the blabbers post-drinking or confronting the deity of Mahakali (the Lord Herself), be it the confusions within the mind on account of his job or the conversations with Karthika (Kuyili) with a bit of one-sided romance involved, Vijay Sethupathi acquires applause and whistles every now and then. Cinema is mainly a visual medium and unfortunately, there are only very few like Sethupathi, who can emote and express well, apart from dialogue delivery.
Karthika has been drafted in only to remind the commercial audience that there is a woman in this movie, as her role has no significance in moving the storyline. She drives, she discusses and she rants. That's all about her! The directors, particularly of genres like this, must realize the socialist concepts would become true only if women are regarded with importance in their movies also.
There must have been a lot of muddles during the shoot of the first half as Mr. Jhananathan's oscillation is evident from the following events:
There is a commercial gaanaa type song, which comes in as an intro for Sethupathi.

While planning a suicide attack, there is an unnecessary duet, which slows the screenplay.
More than anything, this film speaks about the mentality of a hangman and his family. This man, who also has a heart that beats, eyes that weep and mouth that yells, is always viewed as an antagonist by the society. But in contrast, he has his own share of feelings like a butcher, who murders goat and hen, but still remains a human being.
Verdict: Another message–oriented film, out of the stereotypes, but fails to score much due to lack of involvement in cast and inadequate editing.
Rating: 3.5/5