Soumya S
Bachelors in Computer Science Engineering at CEG, Anna University, Final year
She has interned at the Royal Bank of Scotland (RBS), which has its branches spread all over India, employing engineers to build and improve their digital infrastructure
services.
Interviewer: Sarukrishna A (GT)
Interviewee: Soumya S
GT: Is there any specific reason behind opting for this internship?
Soumya: I would say no. I thought it would be a novel experience as it is something not completely pertaining to be my domain, so I applied for it without much hopes. Luckily, I managed to get it and hence went for it.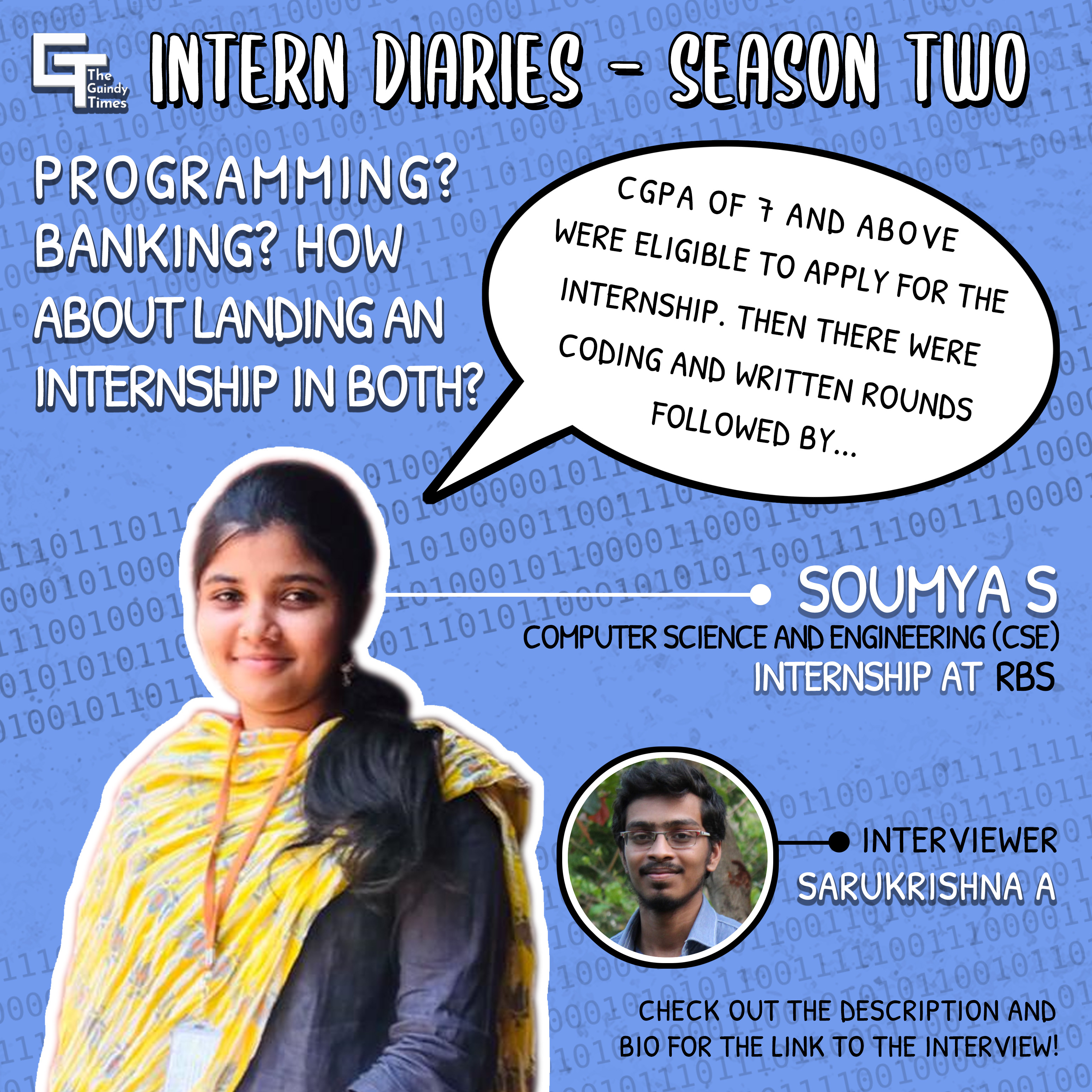 GT: To what extent does CGPA influence the chance of acquiring an internship in RBS? And what are the other criteria laid down by them?
Soumya: CGPA is not vital. People with CGPA 7 and above are eligible to apply for the internship. Then there were coding and written rounds followed by an interview. Candidates were selected based on their performance in these rounds.
GT: How different was the work culture in RBS?
Soumya: Interns were expected to be punctual. Creativity and innovation held prime importance. Also if one is employed there, they will be allowed to work in different domains at initial stages and after a certain period, they will be allowed to choose their own domain to work in.
GT: How relevant was the curriculum to the work you did there?
Soumya: The curriculum was not of much help. Only the fundamentals did lend me helping hands. I was able to get some hands-on experience there, which was very satisfying to me.
GT: Could you please explain to us about the project that you were assigned there?
Soumya: I wasn't assigned any project in particular. My work primarily involved Big Data Analytics. I was teamed up with other interns and we had to predict the economic capital with the provided data. So being a computer science major, I had to write Python scripts that would automate the process.
GT: From your current experience, were you able to identify your area of interest?
Soumya: I have realized that my interest lies in Machine Learning and Artificial Intelligence. I am captivated by the idea of machines thinking like humans and learning things on their own by observing their surroundings.
GT: How useful are the technologies IoT, ML, DL in the bank sector?

Soumya: We use a model called Monte Carlo simulation to predict our economic capital which involves machine learning. Also, artificial intelligence plays a pivotal role here in knowing the customer's requirements beforehand, enabling us to serve them more efficiently.
GT: What you think are the key takeaways from this internship?
Soumya: I was able to develop my soft skills like team management and coordination to some extent. Also, I was also able to enrich my knowledge about the all-pervading technology, Big Data.
GT: What are the challenges you faced during this period?
Soumya: I had trouble interacting with people initially and it took me some time to get adapted to a new environment.
GT: What did you decide to do after graduation?
Soumya: I haven't decided about it yet. As I mentioned earlier, I am interested in Machine Learning and if RBS has got the scope for it, I will continue to work there, otherwise, I might shift.

The Guindy Times thanks Soumya for spending her valuable time with us and wishes all the best for her future endeavours.