At 56, his chiselled physique subverts every stereotype about the city's police force. Being an author, voracious reader, motivational speaker, blogger, a guide for upsc aspirants and a zealous sports person, he truly is a jack of all trades. From a small agricultural family in Kuzhithurai to the city's Additional Director General of police, he surely had a long way. He is the proud recipient of several state and national awards and is the man of awe and inspiration for numerous civil service aspirants. Dr C. Sylendra Babu IPS, ADGP, Tamil Nadu, is an elegant, profound, upright bureaucrat with multifarious talents and is the epitome of honour and simplicity.
The Guindy times had an opportunity to interview him when he came for the career guidance program by the society of material sciences engineers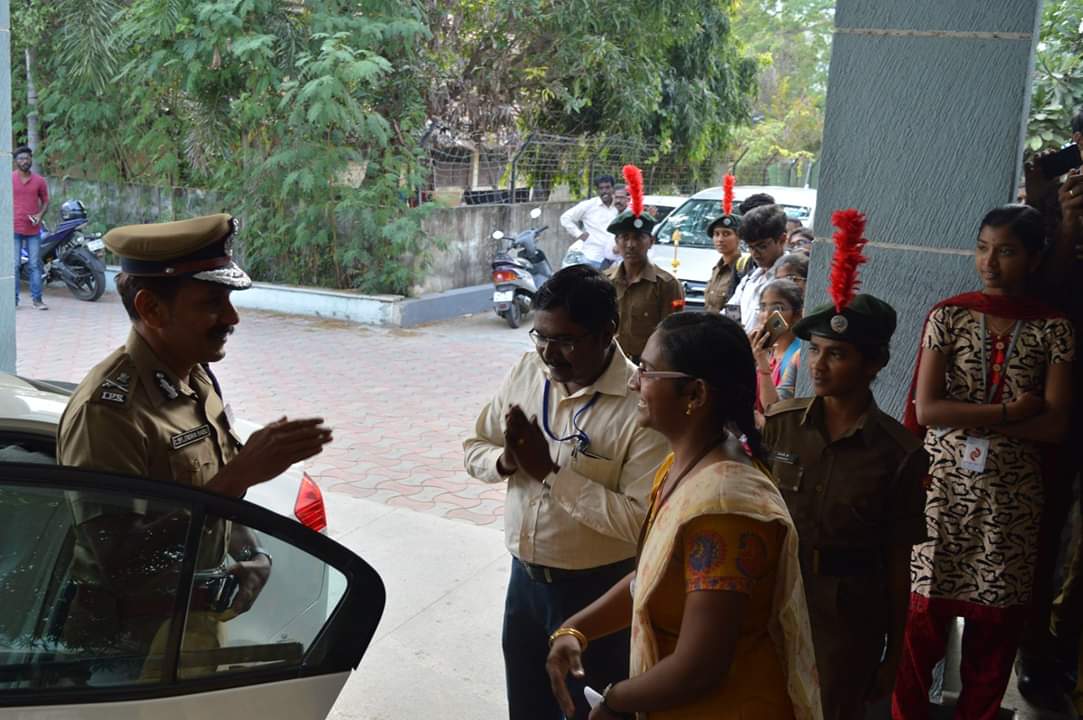 Interviewee: Dr.C.Sylendra Babu IPS
Interviewer: Janani
GT: While we all celebrate success, we tend to overlook the path of failures and mistakes that got one there. What have been your greatest mistakes Sir?
IPS: Human beings habitually tend to make mistakes every day. If we keep doing the same thing over and over again, we probably won't commit any mistakes. But if you want to be successful you have to be different and keep trying something new every day. Nevertheless I have gone through a lot of failures. By seeking and blundering only we learn. We are products of our past and we don't have to be prisoners of it. Never fail to plan or else you will plan to fail (laughs).
GT:Have you ever worried about what others think of you? If so, has it influenced you?
IPS: Oh yes! I always worry, particularly about the younger generation. I am very careful about what I think, speak, preach, do and don't do. Certain words tend to hurt others feelings and make a different meaning than what I intended to. Hence I cautiously select my words. Without any proper evidence, people accuse me at times, which is very painful. On the contrary, when you believe in something and if it's right, even when the rest of the world is against you, you must do it.
GT:Recently you have been actively participating in marathons and cycle-othons. Apart from physical fitness, how does it impact in an individual's life?
IPS: Initially, I faced a lot of opposition from my peers, against me cycling and running marathons at this age. The main purpose for me taking it up is to inspire the youngsters who look up to me. Yes, it takes a lot of courage to be in a situation that demands you to stand alone. In the last three years, I have been part of 25 marathons and cycling events. These endurance sports play a crucial role in creating a healthy, radiant society with mental peace amongst the people. It instils the notion that 'playing the long game is the surest way to success '.
GT: Social service through civil service and politics. How do you view them?
IPS: The horizon of politicians differs from that of the civil servants and also their basic values differ. If you want to continue serving beyond your tenure, you need to be a prominent politician. But as a civil servant you are not bound by time period. Nevertheless, being a successful politician or a bureaucrat is solely dependent on your attitude.
I encourage more of educated youngsters to take up politics and stand for certain principles for the sake of societal well-being.
GT: How were you in your college times?
IPS: During my first year of my under graduation in agriculture, I badly wanted to migrate to medicine. But then I wasn't allowed. Gradually, my interest piqued in agriculture and I pursued my PG in the same. Alongside I was also preparing for my civil services as my passion towards uniform surged.
GT:Taking up an idea and making that happen is not easy. There will be numerous hindrances from people around up (like political interference, pressure due to one's own responsibility). What keeps you going in those times?
IPS: My own miserable situations, inabilities, weaknesses, helplessness, the fear that I can't put my guards down, the pain that I have undergone and my vision to serve the poor people, is what pushes me and doesn't allow me to relax. While it may feel easier to just repress hard things or try to push them out of our minds, reflecting back on, processing and learning from bad memories is how we develop and grow as people.
GT: A degree in computer security and cybercrime in 2018. What drives you to read even now sir?
IPS: Being a police officer I face a lot of cybercrimes and each time, I take the help of other experts. That is when I decided to learn it myself. Currently I am learning Computer technologies (software languages), hardware handling, artificial intelligence, machine learning basics. I don't indulge anymore in formal learning but my thirst for knowledge never subsides.
GT: Today, women do get equal opportunities in every walks of life. But still she faces a lot of harassments, threatening calls from peers. How do you expect her to behave in those situations where silence and anger both are dangerous?
IPS: That's a big issue today. But situations are getting under control now. They should believe that they are not inferior and be bold under all circumstances. There are many women police officials and I would suggest them to contact those officials for a permanent solution.
GT: What do you think is success?
IPS: Success, to me, is doing better than yesterday. Never ever compare yourselves with the others and don't feel contented of your abilities. Participation matters more than winning and always strive to be better. Whether you are rewarded or not, be at your best.
GT: Has any case left you sleepless or shattered you emotionally?
IPS: This case of a college boy who was studying architecture in Cuddalore, being murdered broke me. He was obedient and extremely talented. He built a house on his own for the villagers there (entirely by himself: from design to collecting raw materials). He was killed by the local gangsters there as he spied on them for the police. Veerapan's case has thought me a lot. I was shot and have actually escaped death by a few inches. There were many war like situations also. They make me stronger day by day.
If one really wants to do things, the right time is NOW. At first they'll ask you why you are doing it. But later they'll ask you how you did it. There are many who needs a helping hand. Make sure you lend them to at least one.
The Guindy Times thanks the Society of Materials Science and Engineering for this opportunity and congratulates them for this wonderful event on career guidance.
Tweet