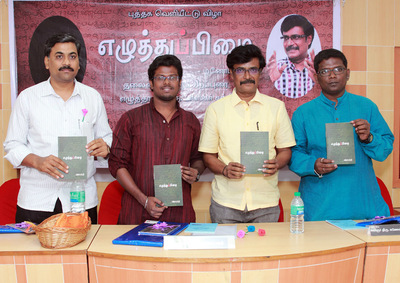 The book-launch of 'Ezhuthupizhai', penned by our 2012 alumnus Mr. Mano Bharathi, started off on a Sunday evening (Feb 8) in front of a packed hall in the Alumni Centre. The programme started with a spell-binding Bharatnatyam performance by Ms. Reshma Gunasekaran followed by a soul-stirring rendition of Classical Tamil music by Ms. Peshma Priya.
First up was Kalaimamani Awardee Writer Bhaskar Sakthi, who has penned the dialogues for several critically-acclaimed films like 'Naan Mahaan Alla'. He spoke about how important it is to preserve Tamil heritage. He also mentioned how commendable it was for a 26-year-old educated in the English schooling system to develop a love for his own language and pursue it enough to craft a book out of it.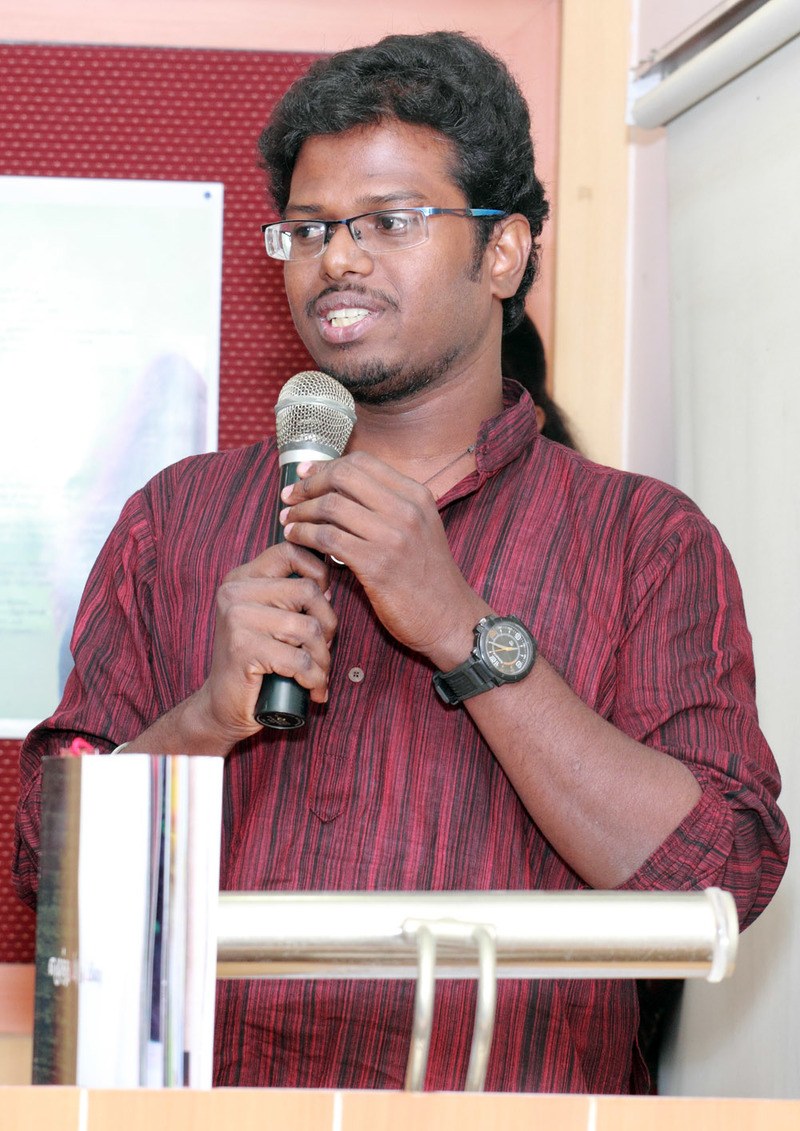 "This is my fourth visit to Anna University, first for a book launch," he says. " The audience of the Tamil book launches I generally visit contain people in the 30+ age-bracket. Here, however, most people are students," he notes, pleased.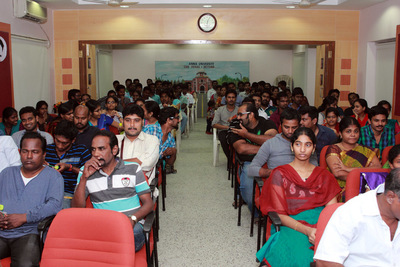 Lyricist Ganesh Kumar Krish, known for his work in recent Kollywood hits, then took to stage, praising the crisp, fast-paced nature of the book's prose.
"When he sent me the first draft of his book and asked me to read and review it, I threatened to unfriend him on Facebook!" he recalls, to laughter from the audience. He explains why, " I've never been much of a reader, so you can imagine how I felt when someone plunked a whole PDF in front of me and asked me to read it!" This book, however, turned out to be the rare feast for him. "Reading that book, I saw it has something for EVERY type of young adult out there - romance, flirting, parental concern, college, navigating a new-found world of responsibilities - this book is all of these rolled into one single package!", he recommends.
We then heard from Prof. Arivudai Nambi, a lecturer of Mano Bharathi during his college days. He recounts the tale of how he found a Tamil doodle on the back-page of the note of ManoBharathy during class, and said to him half-in-jest, "Go ahead. Pursue writing," now feeling tremendously honoured to have his pupil take his words more seriously than they were intended.
When asked why he named his very first book a mistake ('Ezhuthu' → Writing, 'Pizhai' → Mistake), he ascribes it to his self-awareness, stating that he didn't expect his debut novel to be perfect. Veteran writer Bhaskar Sakthi, however, seems to disagree. "I couldn't believe this book was written by a first-timer, after reading it !" he quips.
The book is out for sale on Flipkart. Grab your copies now, at just Rs.120!
http://www.flipkart.com/ezhuthupizhai/p/itme47yzzwkku8zz