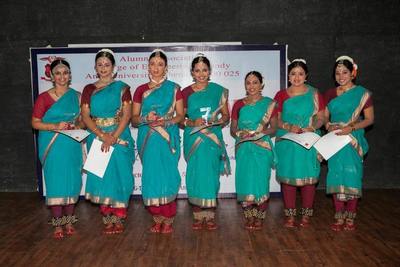 An initiative dedicated to promoting the Indian classical dance and music in CEG - SAPTHAM, is sponsored by the Alumni Association of Anna University who are deeply interested in spreading classical music and dance amidst the college going youngsters of CEG.
In an era where hip hop and pop songs are preferred over Bharatanatyam and Carnatic music, members of SAPTHAM have made huge efforts to provide a platform for upcoming, budding musicians and dancers to stage their talents at various levels. Initially called the HUNS club, it was renamed SAPTHAM, which refers to the 7 swaras in Carnatic music. The inauguration, held on August 12th, was presided over by the famous singer Smt. Nithyashree Mahadevan and classical pianist, Anil Srinivasan. Since then, SAPTHAM has organized stage events, workshops and seminars for beginners in music and dance as well as for advanced artists who want to learn more.
Sri Varalakshmi, the president of SAPTHAM says, "Our main aim is to promote classical dance and music amongst the youngsters. We want Carnatic music and Indian classical dance to be more well known around our college."
Anyone can register, be it students who have had experience in performing on stage and want to do more or students who are interested in learning classical arts (beginners) or even students who are interested in just listening to classical music and enjoying them!
In October 2013, the students of CEG, ranging from 1st years to 4th years, put up a dance recital, called Neela Megham. All the pieces were based on Lord Krishna's life and the performers were appreciated by the audience and the Alumni Association.
In February 2014, a dance workshop was conducted by acclaimed dancer, Priya Murle, who is a senior disciple of Smt. Sudharani Raghupathy. She and her disciples taught the basics of Bharatanatyam, how expressions can be used as a medium of conveying a story, or a feeling or just a message. She also explained the footwork , steps and the different poses generally done in Bharatanatyam.
Upcoming events include the SAPTHAM September Fest, a recital that is spread over two days where anyone can sing or dance. Entry is free for everybody. This will take place on the 19th (music performance) and 20th (dance recitals) of September in the Alumni Association conference hall, First Floor, from 5:30- 7:30 pm.
The other event is the October Grand Fest, spread over 4 days, where professional artists will perform. This event is on the 23rd, 24th, 25th and 26th of October and will take place in the CEG Tag Auditorium, from 6:00-8:00 pm. All are welcome to watch these performances.
Events like this will be conducted regularly by SAPTHAM. It aims to provide a platform for people to showcase their talent in classical dance and music.