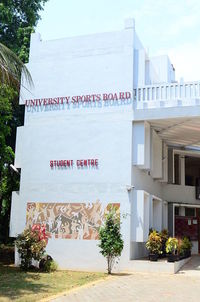 In Anna University, fitness and sports play just as important a role as enhancing a student's mind with their everyday subjects. The NSO (National Sports Organization) is the ideal atmosphere to showcase and improve one's skills in sports.
The year 2014 had a fresh start for NSO wherein this time in the 10-day sports camp from 18 - 27 June, 3 colleges : C.E.G. , AC Tech and MIT; were combined, consisting of around 700 boys and girls.
Waking up before 6 a.m. was painfully difficult at first but soon we got used to the routine. At 6 we all would assemble on the sports ground for warming up with slow jog (seemed to me people were running)and sprint (I would simply slow jog this time), with the warm ups varying each day. An aerobics instructor taught us some very important and basic moves for 2 sessions to keep our heart beating more than 150 bpm, to lose calories and to stay fit and fresh. After we have been woken up completely due to the blood pumping rapidly through our veins, each of us would report to our respective games, mine being basketball. The other sports and activities are football, cricket, volleyball, kho-kho, handball, badminton, swimming and yoga.
Each sport had a staff in charge, some with the help of senior volunteers, from different affiliated colleges who have taken tremendous effort in maintaining discipline among the students. Around 8 a.m. we would be done with our sports and would head to the mess carrying our starving bellies for breakfast. The mess food this year was nutritious and delicious enough.
At 4 p.m. again we were to report to the grounds and head for our second session of sports for the day. The weather could not have been more better for us to enjoy our games, with a breezy and cloudy atmosphere in most days, and sunny for the rest. At 6 p.m. we were allowed to take our exhausted bodies back to our rooms and prepare again for the battle tomorrow.
On the night of 25th of June, a special bonfire was put up in the field facing the Gallery where all of us were seated, as is always the tradition of all camps towards the end of its date. The deans of CEG and AC Tech and the Chairman of the Sports board were also present to witness the cultural performance prepared solely by the students themselves. With various boys and girls performing solo dance, group dance and singing, the crowd had no lack for entertainment. Even a special girl trained in Karate breaking a pile of bricks with one hand blew our minds. Something new and impressive.
Even though I experienced pain in parts of the body I never knew existed, the NSO camp is a place where a load of friendships can be made and that's exactly what makes it more enjoyable and memorable. Apart from the stamina, speed, friends and physical aches gained, the camp has given us in depth knowledge of the sport in the short span and shown us all the importance of keeping our body, mind and soul forevermore healthy. Well it's up to our lazy selves to continue that practice. I opt for lazy.