Director: George Miller
Cast: Charlize Theron, Tom Hardy
Rating: 4.8/5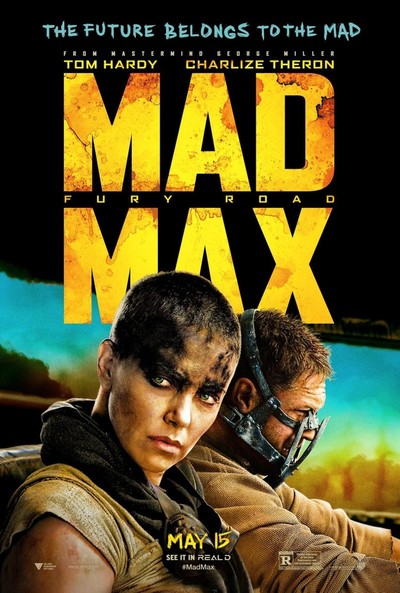 The story is set in post-apocalyptic Australia years after the death of "Mad" Max Rockatansky (Tom Hardy). The land is ruled by Immortan Joe (Hugh Keays-Byrne), a heartless leader. Furiosa (Charlize Theron), driving a convoy for Joe, goes rouge in order to provide an escape for Joe's five tortured wives.
What stands out?
An eclectic mix of characters, ranging from Immortan Joe to the guitar –wielding, "BGM provider" who rides with the villain and is a delight in the film. (If only this happened in real life)
A refreshing change with the strong-headed Furiosa as the main character in this blockbuster action movie, for which Charlize Theron is a tailored fit. Her stunning performance is the epi-center of the movie, in which she walks a tightrope between vulnerable and independent and successfully crosses to the other side.
This movie is one of the best 3D movies I've seen in a while. Stunning visuals, a suitably perfect soundtrack and an excellent cast.
What could have been better?
The action movie is close to perfection, indicated by the fact that not a single person touched their phones. The audience, extremely still during multiple sequences in the movie, gripped and sat at the edge of their seats. Many collectively exhaled a sigh of relief after each was over, something I haven't seen in a while. A two point reduction for the extreme gore, but then again, it is a Mad Max movie.
Bottom-liner: Gripping. Must-watch.
Facts:
The trailer for Batman vs. Superman: Dawn of Justice (2016) was supposed to premiere right before this film, until it was leaked.

The movie is an Australian film, not American as many would assume.

Heath Ledger was considered for the role of 'Max' before his untimely death in 2008.

George Miller decided not remake the old films in the reboot but rather set it in post-apocalyptic Australia years after the death of Max's family.

The word 'Max' is uttered only three times.