A good action-thriller movie keeps you tense, engaged and excited. A great action-thriller does all that and still makes you feel anxious long after you've left the theater.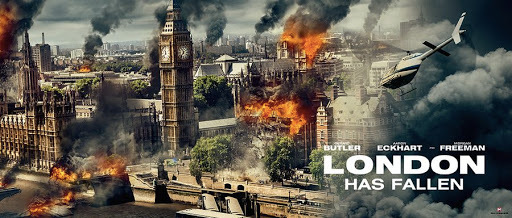 'London has fallen', the sequel of 'Olympus has fallen', is one of the latest additions to the list of recent action thriller movies trending this year.
The film opens up to reveal that our hero, Mike (Gerald Butler), is assigned to guard the President of the United States of America (Aaron Eckhart). They are soon informed that the Prime Minister of London has suddenly died and Mike is to accompany the President to attend the funeral along with most of the leaders of the free world. As they all begin to congregate at the funeral, a series of coordinated attacks begin, involving bombs, rocket launchers and hundreds of fake cops mowing down people in the streets that allow viewers to see most of London's landmarks being blown to smithereens and presumably thousands of people—including the leaders of few countries —killed in a number of gruesome ways. However, it's all a ploy as international arms dealer Aamir Barkawi (Aalon Abutbul) wants payback for the death of his daughter. The only hope of stopping it rests on the shoulders of the President of the United States and Mike 's formidable Secret service head, who has to rightly trust no one and fight back to save the president. Will Mike manage to save his life and that of world leaders around the world? Or will he fall prey to a personal vendetta?

Rating - 3.25/5
Final verdict - This movie is truly for all Gerald Butler fans. Other than that, it is a good action film, perfect for watching once on a Saturday evening with Sathyam popcorn.