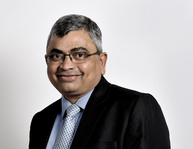 A cheerfully upbeat person, Krishnakumar Natarajan, fondly called 'KK', is a MechE alumnus of the 1979 CEG batch. A 35-year-veteran of the IT industry, he has played several key roles in the growth of Wipro, India's largest IT services firm. He is, however, best-known for co-founding MindTree, an IT company that has been consistently ranked as an upcoming global leader in its field. The Guindy Times caught up with him, and here's what he had to say:
Q. Tell us about your experience at CEG, Sir.
A. It was the first time I had stayed in a hostel, away from home. Ragging back then took us to the Gandhi Mandapam and Children's Park in the middle of the day, where we had to sing songs like 'Nila Nila Odi Vaa' in broad daylight, in front of the visiting public!
I was in the college badminton and table-tennis teams. In fact, for two years, we won the Madras University championships.
During my final year, I was the President of the Student Union (now known as SAAS). In the end, we had saved so much money from the budget of '79, that we helped precipitate the construction of the AU-FRG building next to the canteen.
Q. Tell us of some memorable experiences you had as the Student President of 1979.
A. For the big student night for Techofes that year, we had tried sourcing the latest Kamal Hassan release for viewing in Vivek Audi. No digital-piracy back then - you had to approach the distributor, strike a deal and carry big boxes of reels all the way back to college! At the last moment, however, the distributors had retracted on our agreement and given the reels to another theatre. We didn't want to disappoint our students, so we had to run helter-skelter across the city that day to get them back in time!
Q. What lessons has college life taught you?
A. One important lesson is that, sometimes, the right decisions can be tough to follow up on.
Towards the end of my tenure as President, the government wanted to change our college's name to PAUT. This did not sit well with us, because while Madras University was well-known in the domestic and international spheres, 'Anna University' was hitherto unheard-of. This meant that the degrees of outgoing students wouldn't be recognised as easily - both by colleges abroad, and for jobs here in India.
The President of India was visiting campus that year and, for the first time, we had to rebel against the college administration, saying we wouldn't allow the President entry to the campus that evening if MU couldn't retain its name.
I lost my Honours because of that protest. Looking back, however, it hasn't been too detrimental to my career. The good thing was that the protest served as a healthy, peaceful outlet for the rest of the student community to express their concerns through - earning me their genuine respect, which continues till today.
Q. What prompted you to leave your cushy job for the uncertainty of entrepreneurship?
A. Apart from the passion that every entrepreneurial speaker cites, it's very important to have financial security to help you tide past the first few uncertain years. Though people make a lot of noise about Infosys creating stock options, Wipro was actually the first company to do so. I got my stock options in the early '80s itself, so I had quite a good financial mattress to fall back on.
But more than anything else, it is the freedom to make a large-scale investment in a cause close to your heart that makes entrepreneurship so tempting. Though Azim Premji is one of my closest mentors, he is not going to be too accepting if I suggest we plunk 10 crore rupees into developing technologies for children with cerebral palsy! We, at MindTree, believe that companies must be socially-conscious. That is a very important part of what we are. We are that way even today, as we were 15 years back. A lot of investment goes into building technologies that help kids with cerebral palsy to lead better lives.
Q. What drives you to put in the effort required to keep MindTree at the Fortune India 500 list?
A. What drives us is the chance to develop technologies to better the lives of people at the lower end of the social spectrum, while being commercially successful at the same time. The average rag-picker, for instance, has a life-expectancy of 39 years, despite rendering such an important service to society. They have to be integrated into mainstream economy - IGotGarbage is a MindTree initiative working towards this end, by improving ragpicker livelihood and solid-waste management.
Q. Are you open to hiring CEG interns and graduates?
A. Of course we are! You people don't come, that's the problem! At the end of the day, when Microsoft comes for you with a 20LPA package, you guys go there!