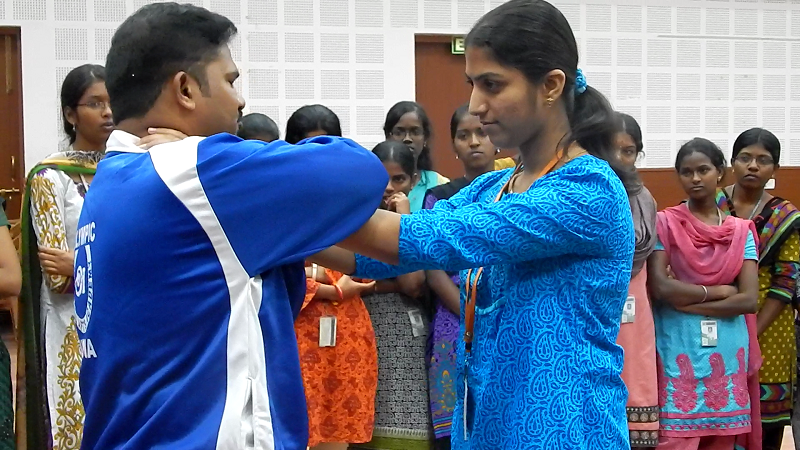 We all know that the world we are living in is not all shy and nice. We can't predict what is going to happen to us the very next moment, thanks to the speed in which we are living our lives. And we have very little time to master self defense which, by nature, is instilled in us, but just lying dormant. To let out that inner fire, The Rotaract Club Of CEG on February 21st, conducted a Self-Defense Workshop "AEGIS-Lets defend ourselves" exclusively for girls which took place at the TAG Audi. I was quite curious to know what cool defense techniques they would teach them and rushed to the Audi as fast as I could.
The workshop was split into two sessions-one being a demo class and the other being an interactive talk session. The demo session was conducted by Mr.Arun of "Olympic Academy of Martial Arts" and our college alumni Anitha Prabha . We had a fun time tackling others playfully and at the same time, we were surprised that just a simple trick and some presence of mind seasoned with some courage could help us wiggle out of any life-threatening situation.
They also stated some mobile apps like VithU, SOS Stay Safe and Lite 360 Family Be Safe, which would help us when we feel insecure or when we sense danger. Everyone had a confident grin at the end of that session and the folks were successful in making us believe that we were indeed strong and there was nothing to be afraid of.
The second half was conducted by Ms.Dhamayanthi who was a writer from the newspaper "Pudhiya Thalaimurai". The session was useful where we learned to shed our inhibitions, feel empathetic towards others, realize our true selves by some soul searching and finally coming out with a positive vibe. Every girl should believe that we are no lesser than men and this workshop taught us how to live with that truth.