"Design can be art. Design can be aesthetics. Design is so simple, that's why it is so complicated."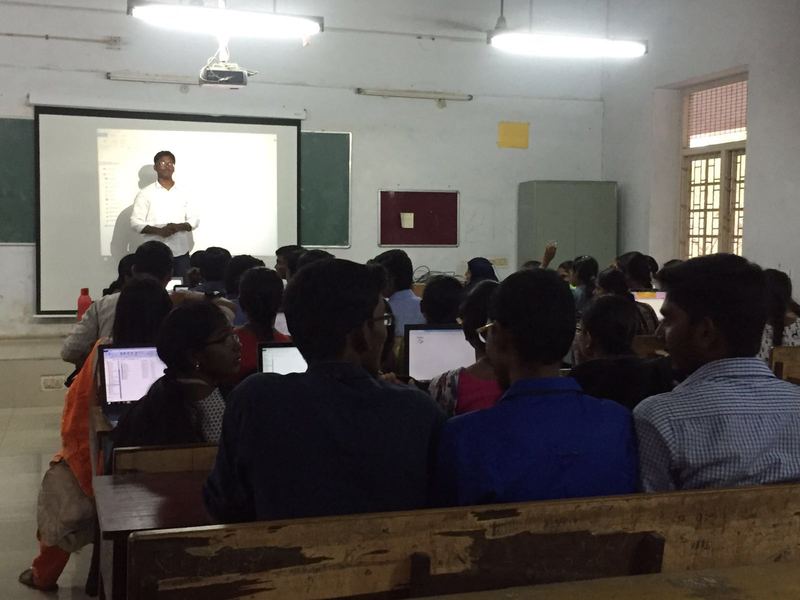 Four talented students belonging to the Leo Club, well-versed in web design, organized a workshop to show that it is not as it would seem to be to design a good website. They shared the knowledge they had gained from the classroom and the internet.
The two day web designing workshop was held after college hours on the 18th and 19th of January. The main organisers for the event were third years, Giritharan, Prathab and Dhanush from the CS Dept and Janani from the IT dept. Giritharan handled the crowd of students on both the days and shared his widespread knowledge of web designing with the students. He took away the drab and dull feeling of being in a classroom with his jovial demeanour. Many volunteers went around to clear doubts personally.
According to the organisers, web designing basically consists of three main topics: HTML, CSS and Bootstrap. Each of these topics were taught using the Leo Club website. Starting from scratch and going to advanced topics, Giri covered all the major topics including the pitfalls and the fallacies. He gave his expert advice on the do's and don'ts of a good website.
One of the participants said that, he had considered coding to be an allergy but after attending the workshop, designing a website didn't seem all that difficult to him.
The organizers assured that at the end of the workshop the students would be able to create their own web page with ease if they had paid attention during the workshop and practiced during their free time.
At the end of the workshop, the speaker, Giri winded up with an proposal to all the participants to design their best websites and send it to his mail ID by the 25th of this month and he, in return would give a prize of sorts which will be revelaed later on. He also promised due recognition to the winning web designer. So the race is on and may the best web designer win.
LEO club stands for 'Ordinary people, Amazing Things', but with this workshop, we could very well change it to 'Ordinary Computers, Amazing Websites'. Hats off to Leo Club for taking an initiative and enlightening the budding engineers with their knowledge.
Photography: Muthu Kumari