Maybe a diehard fan of the Kung Fu Panda series isn't the right person to write a review. But that's not going to stop me from writing this one! Maybe I'm a crazy fan. Some may say outrageously so. But honestly, I will try to be as fair as my fanatic self will permit me to. And let me start with one of my favourite phrases "Wooahh.. Awesome!" I know this will elicit quite a frown upon many faces but bear with me.
Let's dive into the story. The Dragon Warrior Po has a new task at hand - to become a teacher. But he sucks at it pretty badly. General Kai, an evil oxen is on a rampage, looking for the Dragon Warrior and the Furious Five. And amidst all this chaos, Po reunites with his long lost father. So will Po master the art of teaching and defeat General Kai with a lot of issues lurking in the back?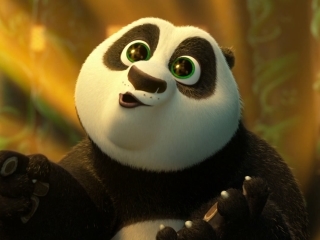 Don't expect twists and turns in the story. As the story progresses, you do have hints of how the story might progress. There aren't any sudden unexpected twists in the plotline. But that's fine by me. The Kung Fu Panda series isn't one where you expect an unpredicted turn of events. You fall in love with the series for the characterizations, the amazing dialogues, the sense of humour, the animation and the movie as a whole. Humour is the movie's forte and it has been played quite well. Even at the most crucial of scenes, you're left with tears rolling down your eyes and a stomach aching from laughter (exaggeration, I know! But the fan in me can't stop. *sheepish grin*). The animation was simply amazing! The cute baby pandas were simply adorable.
The movie did seem to slack a little in the middle but it made up with the abundance of humour. There was a small detail which kept gnawing at the back of my mind. Po seemed to realize everything all too quickly. When so much pain was taken to show how miserably he failed in teaching, with just a few scenes he's shown realizing his potential himself. As was in the case of the pandas in the panda village. The transition seemed too abrupt. Some care could have been taken to show general progress. But that couldn't stop the movie from being awesome! And my review will never be complete without exclaiming about the surreal experience of IMAX 3D. It was way too good. It was beyond imagination. Every colour, every motion, and every 3-dimensional action was simply amazing. I still can't stop gushing over it! So I bring this review to an end with Po's words, "Wooahh.. Awesome!"
With a lot of videos doing the rounds on the internet, I ask you to watch it in theatre and in 3D for the best experience!